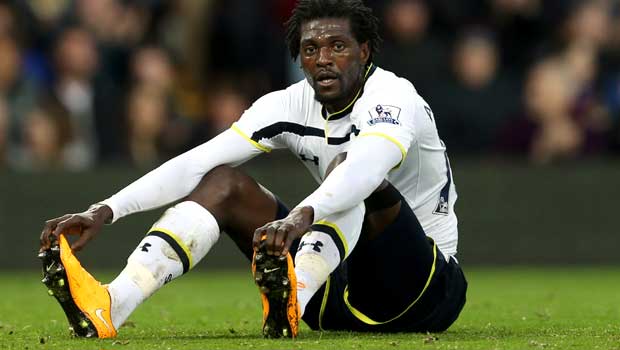 Tottenham striker Emmanuel Adebayor insists he is hopeful of staying with the club after spending time away from the game in recent weeks.
The 30-year-old has been missing from the Spurs squad due to injury and illness and was also granted compassionate leave as he returned home to Africa.
Adebayor missed nine weeks of action in total but he returned during Saturday's 2-1 win over Sunderland.
The former Arsenal and Manchester City striker came off the bench during the second half, much to the disgust of some Spurs fans who booed his introduction.
He reportedly earns over £100,000 a week and rumours suggest the club are hoping to get him off the wage bill.
Despite the talks over his future, Adebayor insists he wants to succeed at White Hart Lane.
He said: "I am a footballer, you know? Obviously a lot of people always say I always play for contracts – at the end of the day, we are all footballers.
"This is what I choose to do. This is my life, this is my work, and this is what I do to feed my family.
"At the moment I have a contract with Tottenham, I am committed to the club and I will always give my best to my club, which is Tottenham.
"I am a player who is not afraid to face the reality that if I have to leave, I will leave. At the moment I am at the club, so I am very happy to be here."
Leave a comment