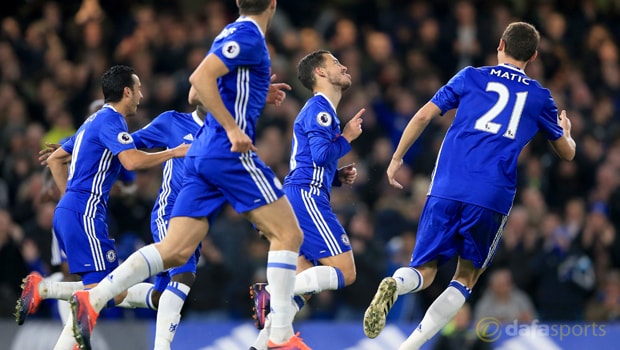 Eden Hazard has revealed how much the entire Chelsea squad are buying into the ethos of manager Antonio Conte this season.
The Belgian playmaker has been in sparkling recent form, scoring seven league goals in 11 games so far and picking up the Premier League's Player of the Month award for October.
It is a wholesale turnaround after he had scored just six goals in the entirety of last season as Chelsea relinquished their title with a mere whimper.
Hazard says both he and his teammates have shown their faith in Conte and they firmly believe the Italian coach can make them champions once more.
"If someone had told us before the season that if we did everything Conte asked of us we'd have a chance to become champions again, we'd all have signed up," Hazard told the Guardian.
"We have bought into it. This is what he wants from us and believes we need to do to achieve something special."
Hazard also revealed that he played much of last season through the pain of a hip problem that prevented him from showing the sort of form that had made him PFA Player of the Year during Chelsea's title-winning campaign.
Now 25, Hazard says that he told Conte in March he had no intention of leaving Stamford Bridge in the summer just passed.
He also insists that he won't be leaving the club without another title on his CV. "[Conte's] passion and enthusiasm for the job were obvious.
I made clear I had no intention of leaving after such a poor year. I didn't want to go out like that," Hazard added.
"If I ever leave, it'll be after winning a championship. You need to go out on a high so that people remember you for the right reasons."
Chelsea are 1.57 to win at Middlesbrough on Sunday while they are 3.60 to be champions this season.
Leave a comment