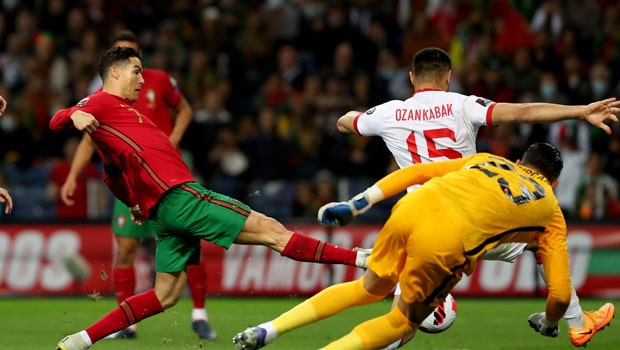 Many football experts reckon that the upcoming FIFA World Cup 2022 could be Cristiano Ronaldo's last major international tournament for Portugal if the team manages to qualify for the quadrennial event. However, Ronaldo, who recently turned 37 in February, has dismissed such speculations regarding his future.
Ronaldo has stated that he would keep playing the game until he is enjoying the sport and he would call time on his career when he will not be enjoying it. The Portugal captain is still fit as a fiddle but there is no doubt that his performances have gone down by his lofty standards.
Ronaldo said: "I'm starting to be asked the same question. The one who is going to decide my future is me, nobody else. If I feel like playing more, I'll play, if I don't feel like playing more, I won't. I'll decide, period."
On the other hand, Portugal will face North Macedonia in the final of the World Cup playoffs and they would be able to qualify if they beat the underdogs on Tuesday.
Meanwhile, Portugal has qualified for the World Cup finals on the last five occasions and had made it to the event through playoffs in the 2010 and 2014 editions. Ronaldo added that there will be no World Cup without Portugal.
Ronaldo said: "There is no World Cup without Portugal, here there are no individuals, we are a group. "Tomorrow is a final and we are ready. Favourites?… I always consider myself favourite, whether [playing] at home or away.
"We already know that if we win, we will go to the World Cup, if we lose, we are out. We have a responsibility to be positive and win the game. "The pressure always exists. I feel good, as usual. Another day that I will be ready."
Portugal had convincingly beaten Turkey by 3-1 in the semifinal whereas North Macedonia had stunned Italy by 1-0. However, Ronaldo is optimistic that North Macedonia won't surprise them.
"They have surprised [opponents] in many games but I believe that tomorrow they will not surprise us," Ronaldo said of North Macedonia. "Portugal will be better and we will go to the World Cup. "For us, it's also a game of [our] lives."
Portugal will host North Macedonia in Porto on Tuesday.
Leave a comment