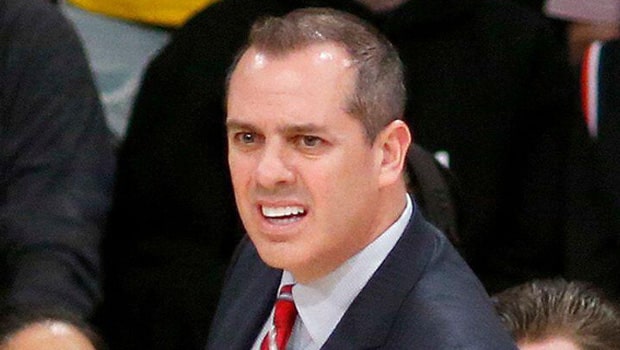 LA Lakers head coach Frank Vogel admitted his team just didn't execute well enough after they lost against Dallas Mavericks by 128-110 on Tuesday. This loss takes the Lakers to a 31-44 record and they are now at 11th place in the Western Conference standings, which takes them outside the play-in tournament.
Lakers were without the services of their talismans like LeBron James and Anthony Davis. However, Vogel reckons such a poor performance is not acceptable to them.
In fact, the Lakers were once again blown away in the first quarter as Mavericks outclassed them by 43-25. After the first three quarters, the Mavericks had a comfortable lead of 37 points. Luka Doncic was once again at his best as he scored 34 points, 12 rebounds, 12 assists to record a triple-double.
"We just didn't execute well enough and play with enough toughness, IQ, intelligence, focus and fight," Lakers coach Frank Vogel said. "So, not acceptable and just a poor performance across the board. Coaches, players, everybody."
"The standings are the results," Vogel said. "We have to keep our focus on the process and the work and the things that are going to lead to the next win. That's the only place that our focus will be."
Vogel revealed that James and Davis' availability will be re-evaluated on Thursday for the team's next match.
Lakers forward Stanley Johnson admitted his team was totally dominated by Dallas Mavericks as they were trailing by 30 points for the major part of the game. Johnson feels they need to do better as a unit.
"We just got our butt whupped. Straight up," Lakers forward Stanley Johnson said. "So whatever spirit or whatever, they kicked our ass. It was 30 points pretty much the whole game. I don't know how else you want to put it. We got to be a lot better than that."
Lakers will next face Utah Jazz on Thursday night.
Leave a comment