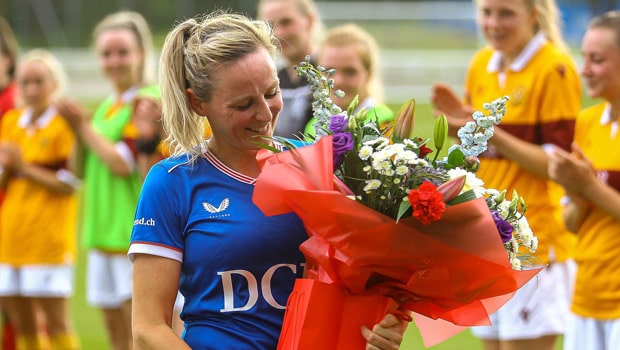 Rangers Women FC captain and legend, Clare Gemmell, announced her retirement this Sunday as the side took three points in the final home game of the season on a 6-0 win vs Motherwell.
"I cannot explain the emotion of playing my last home game for this amazing club," Gemmell said in a statement via social media. "It has been the most enjoyable 7 years of my career."
"To my team you are all amazing, it has been a pleasure to play along side each and every one of you (past and present) and be your captain through all of the highs and lows."
Gemmell received a guard of honour in her final home match this weekend. She scored in the 79th minute to put the Rangers up 6-0.
"Unbelievable captain, Honoured to share the pitch with you before you called it a day," teammate Nicola Docherty said on social media. "Massive respect to you on and off the pitch."
Docherty scored her first competitive goal for the club this weekend.
Fitting to be assisted by Gemmell.
Originally from Greenock, Scotland, the midfielder signed with the Rangers originally in 2015, with an extension signed in 2020.
Her influence on the club as a whole, and on the center of the pitch, will remain a force of nature as Gemmell is expected to remain with the club in a potential player development-type role.
Leave a comment