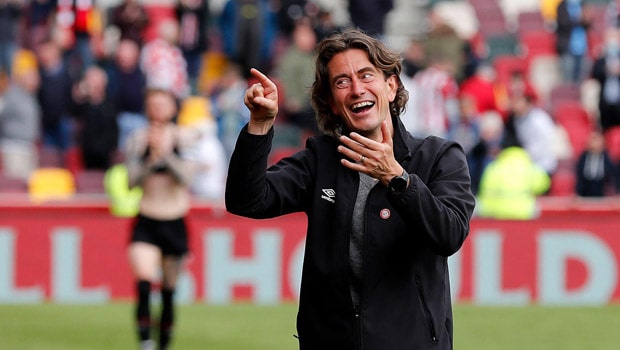 Despite being a man down, Brentford took down Swansea City 2-0 in the Championship to be promoted back to top-flight action for the first time since 1946-1947.
Brentford had a similar opportunity the season prior, but came up short in the playoffs vs Fulham.
Coach Thomas Frank's Brentford have now made it to the Premier League as the West London club's fans have waited for a return since 1947.
Following the defeat, Swansea City's Steve Cooper said they will use the emotions of this defeat to push them harder next season.
Ivan Toney, along with the whole team, is looking forward to this promotion after being involved in 43 goals in 48 Championship games this season. He had 33 goals overall and 10 assists.
"I'm a Premier League striker now, I can't wait to score goals in the Prem," Toney said after the win.
He also went 11-for-11 on penalties taken and scored, the best efficiency rate in the top four tiers of English football this year.
"Right now I just want to get so drunk tonight and then tomorrow I will think about the Premier League!" Frank said after the 2-0 over Swansea City.
"It's crazy. I've got no words, my voice is going," Toney said. "It's the best dressing room I've been in, I've loved every minute of it. I'm in the Premier League with the best bunch of boys I could ever dream of."
With the promotion, Brentford are the 50th different team to join the Premier League and the 10th side from London to do so.
"Everything is possible if you work hard, have a clear strategy, togetherness, and then everything is achievable in the world," Frank said, hoping to motivate others to dream of promotion like this one.
Leave a comment