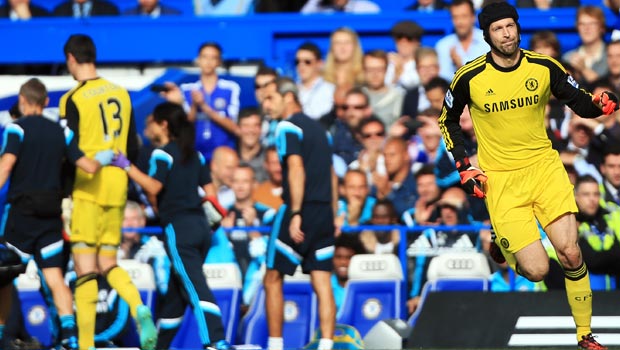 Petr Cech has hinted that he will leave Chelsea if he continues to be classed as the club's second choice goalkeeper behind Thibault Courtois.
The giant stopper has made over 500 appearances for the Blues since joining from Rennes in 2004, helping them win three Premier League titles, a Champions League and a Europa League amongst other trophies during his time at Stamford Bridge.
However, his playing time has been limited since Courtois' return from his lengthy loan spell at Atletico Madrid and he only made his first league appearance of the season in Sunday's 2-0 win over Arsenal, coming off the bench following a head injury to the youngster.
At 22 it appears as if the Belgian is now Jose Mourinho's new long-term number one and that the best decision for Cech's career would be to seek a move away from the club, especially with him hoping to play for the Czech Republic at Euro 2016.
Chelsea have made a flying start to the campaign, winning six of their seven Premier League games and are the 1.50 favourites to win their first title since the 2009-10 campaign, while they are also fancied in Europe, the Blues being priced at 6.50 to win the Champions League.
Despite all appearing to be rosy at Stamford Bridge, the club's long-term stopper is inevitably growing frustrated by his situation and admits he may be left with no option but to leave the club where he has established himself as one of the best in the world.
"I think they know me well enough at Chelsea to know that the situation is definitely not the way I would imagine," he told a Czech radio station. "With the European Championships in 2016 and the national team in mind, there is no time for me to sit on the bench and not to play.
"I have not spoken to anybody at the club but if the situation will not start to improve for me then I will want to solve it."
Leave a comment