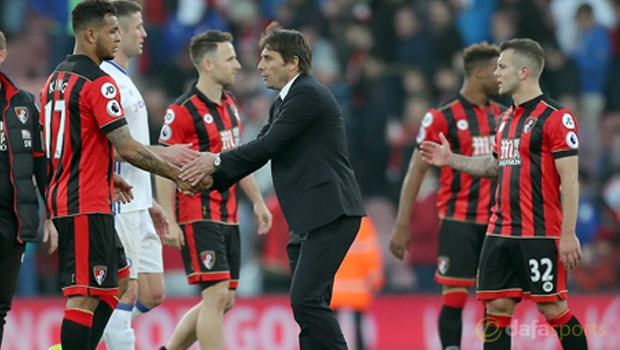 Chelsea

manager Antonio Conte insists he is enjoying the pressure of the title race as his side continued their push for silverware.
The Blues restored their seven-point cushion at the top of the Premier League table as they beat Bournemouth 3-1 on Saturday evening.
An own-goal from Adam Smith allowed them to take the lead, before Eden Hazard scored three minutes later.
Josh King did try to make a game of it as he got the Cherries back into the contest before Marcos Alonso wrapped the game up with a stunning free-kick.
The victory was the perfect response from Chelsea after Tottenham's win at lunch-time and Conte's men now need 15 points from seven matches to seal the title.
Despite the pressure surrounding the club, Conte admits he is enjoying the fight although he has warned his side that Spurs will never quit.
He told Sky Sports: "It wasn't easy to play this game after the win of Tottenham, but our reaction, our answer was very good.
"I'm very happy to face this type of situation, and to play with only four points from our opponent.
I like the pressure, if I don't see pressure I put pressure. Because I think under the pressure you get the best from yourself.
"There are seven games to go, and we have a schedule that's not easy," he added.
"But it's important to go game by game, in this case after our defeat against Crystal Palace, we played Manchester City, and we could drop points, and today we could drop points also.
"Don't forget Tottenham last season fought for the title until the end and it means that Tottenham are a really good team…
Tottenham are stronger than last season, it's important we understand this."
Leave a comment