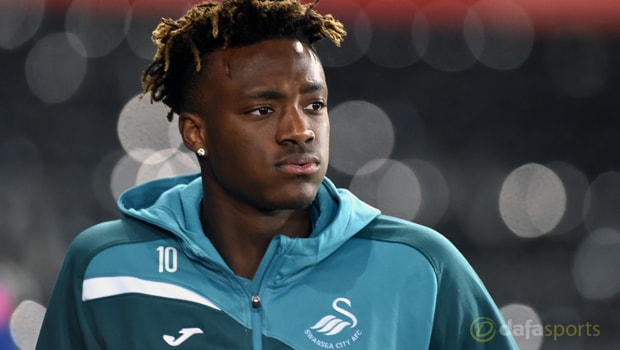 Swansea forward Tammy Abraham is confident a strong end to the season can win him a place in Gareth Southgate's squad for the 2018 World Cup.
The youngster earned his first caps at the start of the season after he impressed during the first few weeks following his loan move from Chelsea.
After scoring a number of goals for the Swans, Southgate drafted him in for the friendlies against Germany and Brazil.
He had scored five goals before October but the 20-year-old then went 14 games without netting.
Abraham grabbed a brace during Tuesday's 8-1 win over Notts County in the FA Cup and is confident the goals will now flow until the end of the season.
With Wilfried Bony out for the season, Abraham has a clearer path to the first team and is determined to take his chance ahead of the World Cup in Russia.
When asked about his chances, Abraham admitted he will take inspiration from Spurs ace Harry Kane after several loan moves at the start of his career.
He told Sky Sports: "He is a player I have always looked up to and he is one of the greatest strikers.
"So I obviously follow his past and what he has been through. It gives me confidence as well that there is a light at the end of every tunnel so it encourages me to keep pushing and try my best.
"I would obviously love to go to the World Cup. I have to keep proving myself and that's what I am willing to do."
Leave a comment