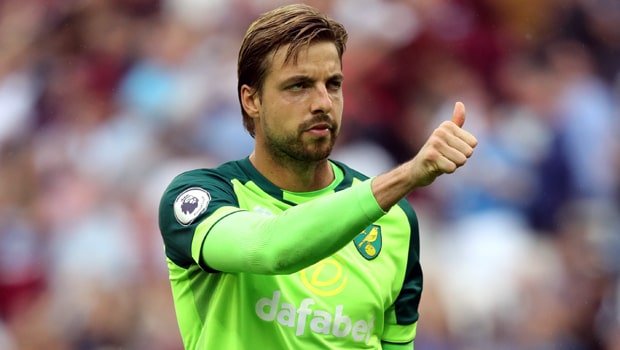 Norwich City goalkeeper Tim Krul has admitted that he is worried by the growing number of defensive injuries affecting the team.
The newly promoted club have started life in the English Premier League is decent fashion. However, they fight to stay in the topflight looks threatened by the rising number of injuries to defenders at the club.
Norwich City FC defender, Timm Klose sustained a terrible injury recently. It seems that his season is already all but over after it was confirmed that he had serious knee ligament injury ahead of Saturday's 2-0 loss at West Ham.
Also, Grant Hanley also missed the game against West Ham due to a groin strain, which has also prevented him from teaming up with Scotland for the international break.
Another Norwich City center-back Christoph Zimmermann was called upon into a Premier League match. Zimmerman had just played only 55 minutes of football since he sustained a knee surgery last summer. While playing recently, he was badly tackled and had a foot ligament damage barely 20 minutes into the game at the London Stadium. Norwich City are yet to reveal how long the German's injury will last.
Tim Krul expressed his displeasure at the rising number of injury concerns for the club's defenders. He said, "It's not great because those are top defenders that I want to see in front of me." However, he was pleased that the club signed Ibrahim Amadou, who he described as a top player as well. Amadou is expected to fill in for the injured defenders.
Krul joined Norwich City in the summer transfer window of 2018 on a two-year contract and has gone on to make over 50 appearances for the club. The Netherlands international has become a key player for the club, since joining from Brighton Hove Albion in 2018.
Tim Krul has an idea of how bad an injury can be to a player, as he has suffered some serious injury woes in the past. The 31-year-old suffered a severe knee injury while on international duty with the Netherlands back in 2015. The injury was so serious that it threatened end to his football career. However, the shot-stopper has restored his career with Norwich City and has made 50 consecutive starts for Norwich City FC.
Leave a comment