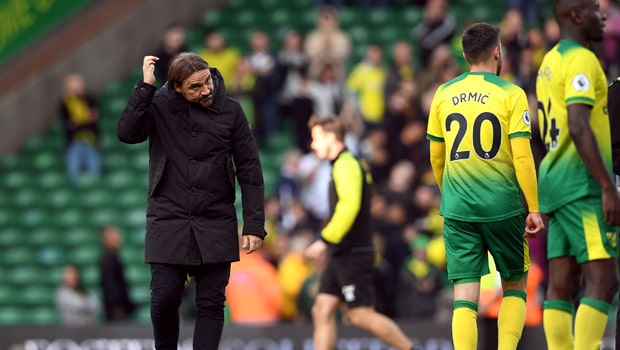 It had been three years, almost to a day, from Norwich City's last visit to Brighton, then in the Championship. Not much was left to tell at home after that night in 2016, as the home team pounded the Canaries 5-0 and eventually left them stranded in the Championship for a few more years while Brighton won the promotion to the Premier League. While the teams were much different this time around, that night three years ago resonated strongly in this issue as well.
Norwich has been struggling since the unlikely victory against Manchester City. They've not managed to win since and have lost five out of six games – having not been even close to winning for the most part. That is to add to the fact that they've only won one other game all season, Newcastle at home mid-August. Needless to say, the time is running out on Daniel Farke's squad to turn the tables and grab some much needed points.
Unfortunately, it looks unlikely. It's not like Norwich could feel hard done by any of their defeats as they've been mostly steamrolled over by much better teams. The defensive battle against Bournemouth – on top of the shocker against Man City – has been the bright spot of the season and that's not much for a Premier League side. For the first time since taking over in the summer of 2017, manager Daniel Farke seemed and sounded genuinely frustrated and even angered by his team's effort. Although not blaming the players, he aimed a not-so-well shrouded jab at the club owners by claiming that while others, even Sheffield United, have spent the money to strengthen their squad, Norwich has not been able to do that. His frustration is well-founded as it is apparent that Norwich City is not a Premier League quality team.
As things stand for Norwich, they desperately need points especially against the other relegation candidates. Farke's main concern is two-fold: how to score goals without exposing the defense and vice versa, how to keep the defense intact while scoring enough goals to win a game. The prolific striker Teemu Pukki has not gotten the ball in the box for ages and his production has dried up. Tim Krul in the goal has kept the numbers decent, but can't win games on his own. Norwich will have to do everything a little bit better, scrap the attacking mentality and play from the defense with patience – and feed Pukki up front.
The Canaries have an excellent chance of getting back into it against another relegation candidate Watford at home on Friday. Losing is no more an option for Farke and his Canaries – or it's back to lower leagues.
English Premier League To Be Relegated – Norwich City: 1.40
English Premier League To Be Relegated – Watford: 1.73
Norwich vs Watford (1×2): 2.59 – 3.35 – 2.54
Leave a comment