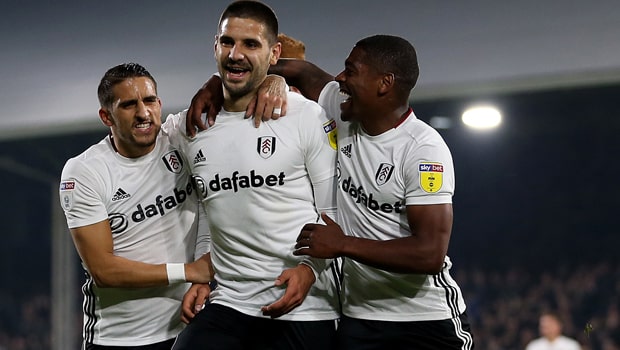 Fulham legend Gordon Davies thinks that in-form Fulham striker, Aleksandar Mitrovic could leave the club in the January transfer window.
It has not been an easy journey for Scott Parker's side so far in the 2019/2020 Championship season. Many pundits had tipped the cottagers for automatic promotion to the EP, but they find themselves in seventh position, just one spot outside the play-offs.
However, it hasn't been all gloomy for them this season. They have enjoyed the services of top Serbian striker Aleksandar Mitrovic. The Fulham striker currently leads the Championship top scorers chart with 12 goals in as many games. Nonetheless, some Fulham fans are worried that the Serbian forward could be attracting strong interests from other clubs, especially in the Premier League.
Legendary Fulham striker, Gordon Davies, recently spoke about this during a radio interview. He stated that if the Serbian striker continues his splendid form, he would be snapped up by one of the teams come to the January transfer window.
He stated that although Fulham had a rather poor season last year, Mitrovic was still banging in the goals for the club. Admittedly, Mitrovic has been leading the Fulham forward line for a long time.
He further added: "You take a look at his international goals he has recorded, and he is close to becoming Serbia's record goalscorer at just 25 years of age.
One of the reasons why he believed Mitrovic could leave the club was soon was due to his international set up.
Davies said: "When Mitrovic plays for Serbia, he receives top-quality service, accurate crosses, and to be very frank with you, the number of headers he scores at international level is ridiculous."
He further went on to add that if Fulham were in a play-off position by January, the forward would be tempted to leave.
"If we're not among the top six or around that top six, we may be waving goodbye to Mitrovic.
Mitrovic is currently signed up for a five-year deal at Fulham and said he is happy at the club.
Gordon Davies is the record goalscorer for Fulham. He played over 394 League matches and scored 159 goals in two stints with the club.
Aleksandar Mitrovic is fancied at 2.40 to finish as the topscorer in the Championship, while close opponent Ollie Watkins is backed at 7.00.
Leave a comment