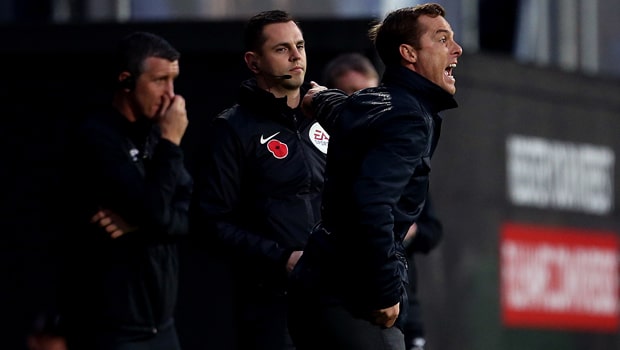 It's no longer news that Fulham FC suffered their 4th loss of the season this past Saturday against Hull City FC. What, however, is looming is the growing discontent among the Craven Cottage faithful, who are desperate for their team to remain in the playoff spots and give themselves a chance at going straight back to the English Premier League.
Fulham Manager Scott Parker has been bearing the brunt of criticism directed at his team these past few weeks. Many have questioned his tactical acumen and expressed disappointment with the formation he sometimes deploys on different match days. Yes, the West Londoners have been dominant in possession for most of their games, but many have felt they haven't done enough to translate that into more wins. Parker is not unaware of these criticisms. Speaking on the club's website, Parker addressed these issues saying
"I hear a lot that this team is a possession-based team, That we lack an impetuous.''
However, he insisted the playing style wasn't the problem also saying
"We are top in this division in shots on goal, shots on target. We are obviously doing something right. We are getting the ball into the right areas. "No other team in this league is hitting the target more than us.''
The attack of the Cottagers has performed admirably, but it's in defense that Coach Parker has a lot to sort out. Former Swansea City FC player Alfie Mawson was brought in to bring some stability to the Cottagers backline. Though good on the ball, many have questioned his defensive solidity, blaming him for recent setbacks that Fulham has suffered in the League. Scott Parker has a lot to do to improve Mawson's performances and make the former Brentford FC youth player a defense stalwart for the Londoners.
Fulham's current position in the League is not an absolute disaster. Twenty-three points from 15 games and 8th in the League is not too shabby, but their recent inconsistent form could derail their efforts if not resolved. Luckily the Cottagers are only 5 points behind league leaders West Bromwich Albion FC and would back themselves to surmount their Black Country rivals.
This weekend's fixture against Birmingham City FC couldn't have come any sooner as Scott Parker attempts to silence his doubters. A win away at Saint Andrew's this Saturday would be just the tonic to get Fulham buzzing again.
Leave a comment