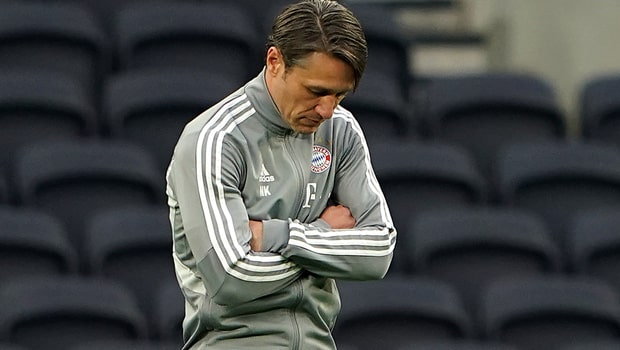 So much for the patience and targeting the Champions League win with Bayern Munich. The reigning champions fell to an embarrassing 5-1 defeat in the hands of Frankfurt on Saturday and that was the end of Niko Kovac's 18 months in charge. Kovac was quoted on fcbayern.com saying: "I think this is the right decision for the club at the moment. The results, and also the way we last played, made me come to that decision.". Officially Bayern and Kovac parted in mutual agreement, but the golden handshake just might've been a bit forced.
The game against Frankfurt reflected much of what has been wrong with Bayern this season in the Bundesliga. Jerome Boateng got himself thrown out the game with a straight red card already on the 9th minute after a reckless and unnecessary tackle. VAR was spot on this time and Bayern had to cope with 10 players for the rest of the game. And they didn't do very well. Barely half an hour was played and Frankfurt was 2-0 up, before Robert Lewandowski punched in his 14th goal of the season on 37th minute to make it a one goal game again. After the initial shock, Bayern seemed to gather some pace and took control, and it looked like a ball game.
But the air was punched out of them to start the second half, with Frankfurt taking 3-1 lead only four minutes in and added two more before Bayern being saved by the bell. The home team can be proud of the 5-1 win, but visitors showed little character and lost the composure after going two down. An absolutely listless and lackluster effort especially in the second half, added to the over-confident and flamboyant start to the match has become somewhat of a trademark of Bayern. Sacking the manager, who in the end is responsible for the players' performances and attitude, might help but just as well might not. Kovac did win the league last season along with the domestic cup and he is unbeaten in Champons League so far. Who can do better?
The caretaker manager Hans-Dieter Flick will be in charge while the board are looking for successor for Kovac. The supply of managers is abundant and managing a club of Bayern's stature should also attract the bigger names, such as Jose Mourinho, Massimiliano Allegri, Laurent Blanc or Santiago Solari. Or perhaps it's time to close in on former Bayern players Jürgen Klinsmann or Bruno Labbadia. Be as it may, the problems of Bayern Munich seem to be more in between the player's ears than anywhere else – three wins in three UCL games with a goal difference of 13-4 indicates the talent and potential have not disappeared. Now it's the new manager's job to dig it up.
UCL: Bayern Munchen vs Olympiacos (1×2): 1.16 – 8.00 – 13.00
Bundesliga: Bayern Munchen vs Dortmund (1×2): 1.53 – 4.60 – 5.20
UEFA Champions League Winner – Bayern Munchen: 9.00
Germany Bundesliga Winner – Bayern Munchen: 1.40
Leave a comment