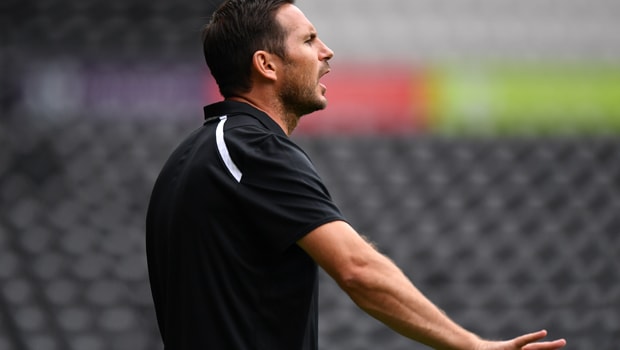 Frank Lampard says he's "under no illusions" as to how his managerial tenure will be judged at Derby County.
The former Chelsea and England midfielder is embarking on the next phase of his career as he leads the Championship side having taken over from Gary Rowett this summer.
He'll take charge of Derby for the first time in a competitive game on Friday when his side travel to Reading in their Championship opener.
England's second tier is a gruelling hunting ground and Lampard says he's expecting it to be tough.
He is not however going to be hiding from what is expected of his team. Derby finished sixth last season under Rowett, falling in the playoff semi-finals to Fulham.
"I am under no illusions, I know I will be judged on results, style of play," the 40-year-old Lampard said.
"With 46 games in 40 weeks, the judgement will come in thick and fast."
Rowett is now in charge at Stoke City, who join West Bromwich Albion and Swansea City in dropping down from the Premier League.
The likes of Derby's local rivals Nottingham Forest as well as Middlesbrough, Leeds United and Aston Villa will all be desperate to get back to where they feel they belong in the Premier League and Lampard knows promotion has got to be the aim. Things must be done in sequence, says the Rams boss.
"It was sold to me, and it wasn't a hard sell because of the size of the club," he said.
"I know that it has been 10 years outside of the Premier League, but when I actually first drove to Derby I was struck by the passion and intensity of the fan-base in this city, what it means to every fan here.
"Of course promotion is the target, every club in the Championship has the same target. But we will go step-by-step.
We want to maximise everything out of the team." Derby are 5.25 to be promoted this season while they are 2.25 to start with a win at Reading.
Leave a comment