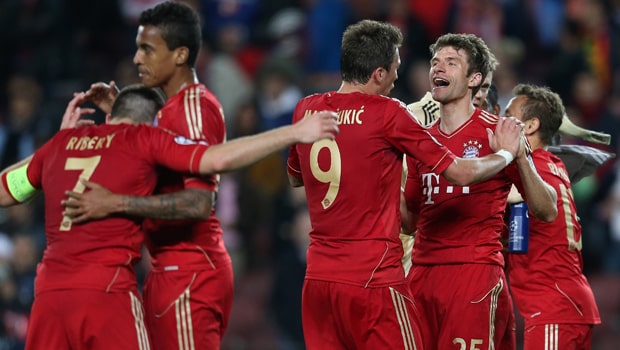 Still about a week to go before the EURO 2020 qualifications return, but there's plenty of action available from the top of Europe in Champions League. Wednesday night sees a couple of big clubs take on the massive underdogs in gamest that just might turn-out to be proper fireworks-displays.
The trio of undefeated teams get their chance to clinch their playoff-spots against much weaker opponents. Bayern Munchen is facing Olympiacos at home, Manchester City travels to Bergamo in Italy to take on Atalanta and PSG hosts Club Brügge in Paris.
While Bayern Munchen is unbeaten in the UCL, they let their manager Niko Kovac go after a 5-1 defeat to Frankfurt in Bundesliga. No new manager has been announced yet and it's up for the players to show up this time around. Luckily the opposition is not exactly top-notch, as Olympiacos only has one point after drawing with Tottenham at home. Bayern are massive favorites to clinch their knockout-stage berth, but their level of effort will be interesting to witness in the absence of Kovac.
Atalanta has been the shooting star in Italian Serie A in the beginning of the season, but they're on the decline both domestically and in the UCL. Not managing a single point in UCL is one thing, but losing to Cagliari at home spells trouble for the team that was touted as a dark horse in both Serie A and their UCL group. All-in attack pays dividends only for so long and Manchester City will definitely look to exploit that mentality even on the road. Last match City gave Atalanta a lesson in scoring, banging in five in 5-1 victory at Etihad. Not much less is expected this time around in Bergamo.
PSG hosts the Belgian side Club Brügge in what is probably one of the most lopsided games we've seen in a while. Even with PSG stumbling domestically – they lost to Dijon, for example – all their effort is aimed at the UCL. They pounded Brügge 0-5 in Belgium only two weeks ago and have not conceded a goal in their UCL campaign this season. While Brügge still has a slim chance of qualifying in top two, the most they can hope for is keeping the numbers decent in Paris.
Bayern Munchen vs Olympiacos (1×2): 1.16 – 8.00 – 13.00
Atalanta vs Manchester City (1×2): 5.50 – 4.90 – 1.49
Paris Saint Germain vs Club Brugge (1×2): 1.15 – 8.00 – 15.00
Leave a comment