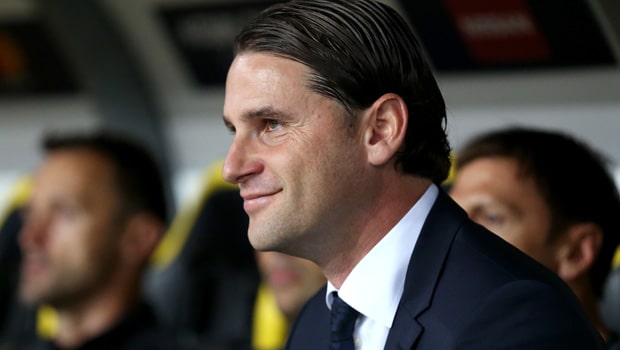 Young Boys coach Gerardo Seoane has lauded his Europa League opponent, AS Roma, ahead of their Thursday meeting.
The tactician described the Gialorrossi as a Champions League level team, adding that the real battle will be for the second spot in their Europa League group.
The game kicks off tomorrow at 17.55 UK time (16.55 GMT). Other members of the group include with CSKA Sofia and CFR Cluj.
Speaking at a media conference ahead of the clash, the coach his lads always want to give their best, adding that the Serie A side is a clear favourite in the group.
While stating that Roma re a Champions League level squad, Seoane said that leaves the other three teams with a battle for the second place, adding that they have the same odds of going through to the second round, which he admitted his side is aiming for.
Not revealing his tactical approach against the Italians, the coach who pointed out that Roma is a very compact team with a solid defense that often has three at the back, he noted that they are also dangerous in attack with players like Pedro and Henrikh Mkhitaryan.
Roma is going into the game on the back of a 5-2 victory over promoted Italian Serie A side, Benevento.
While admitting that his team might not likely have many scoring opportunities against such a strong opponent, he said what is left for them is to be efficient and clinical if they want the three points tonight.
He further revealed that there had been some specialist training on their finishing over the last few days ahead of the tie.
Meanwhile, Young Boys have their own headaches with injuries and COVID-19 ravaging the team. They will be without Sandro Lauper, Esteban Petignat, Christopher Martins, and Marvin Spielmann, who are on the treatment table. Ulisses Garcia, who tested positive for the dreaded virus, is still in isolation.
He also revealed that Ali Camara would return to the starting line up after returning to training for the past three days.
Leave a comment