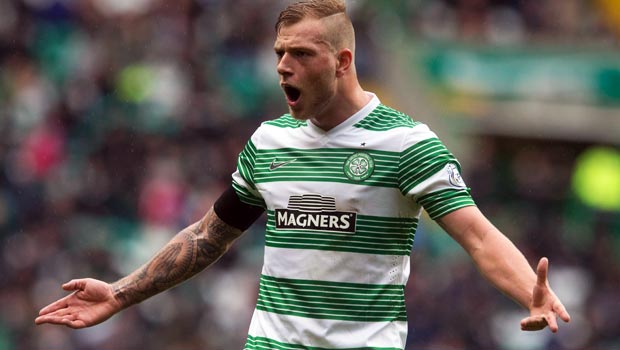 Celtic forward John Guidetti has been awarded October's Player of the Month in the Scottish Premiership.
The Swedish international arrived at Celtic Park on loan deal from Manchester City in the summer, and scored six goals in four games during last month.
The 22-year-old is ineligible for the Scottish champions' Europa League exploits, but should they progress to the round of 32, then he can be registered to participate in any matches which may take place in 2015.
Despite his City contract being set to expire in the summer of 2015, Guidetti's parent-club have reportedly put a £5million price-tag on the Swede's services for a permanent switch, but the youngster has said that enjoys playing for the Hoops, saying: "I am excited in every game I play for Celtic because it's an honour to pull the shirt on."
Any club is free to start talking to Guidetti from January 1st, with many clubs rumoured to be interested in securing his services for free next summer, including Premier League side Southampton.
Celtic boss Ronny Deila has already spoken of his ambition to keep Guidetti at Celtic Park: "We're talking with everybody around him and him also, and he's positive.
"His confidence is fantastic. At once, he was a star amongst the fans and this looks like his home."
Guidetti has been named in the Sweden squad alongside star-man Zlatan Ibrahimovic to face Montenegro and France next week.
Leave a comment