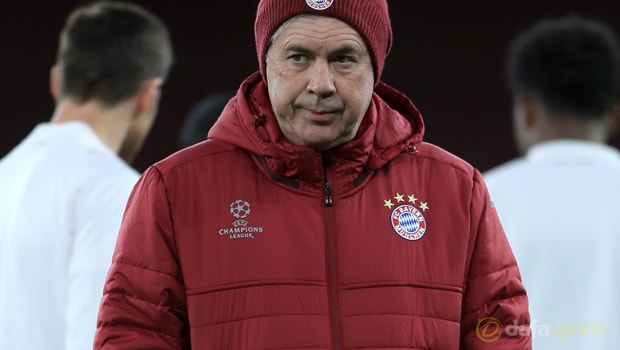 Bayern Munich boss Carlo Ancelotti has revealed he is a fan of Alexis Sanchez but he says the Bundesliga champions will not pay 'crazy money' to sign any player.
Sanchez has one year left on his Arsenal contract and he has been linked with a move to Germany.
The player said on Saturday that he has decided on his future plans, but he did not reveal whether or not that means he is staying with the Gunners.
Ancelotti says Bayern may be interested in bring Sanchez in, should he become available, but that the club won't be held to ransom.
"If an opportunity comes up, the club will be ready," he said. "There are lots of rumours. Alexis is a great player but not the only one in the world.
I like Alexis. "There are possibilities in the transfer market, which can be in many direction.
I believe that the market is currently somewhat crazy – and Bayern is not a crazy club.
"I know the culture of this club and will not ask for any players for whom the club has to spend crazy sums, but if there are opportunities, why not?"
Meanwhile Ancelotti has played down any suggestion of a rift with the club's star striker Robert Lewandowski.
The Polish international's agent recently said the striker was disappointed he did not receive more support in his bid for the golden boot in the Bundesliga.
"Lewandowski has never complained to me, I congratulated him on his good season," said Ancelotti.
"I was satisfied with him and he was pleased with us. As always there are agents who talk too much, I do not know why.
It is not the first time an agent has used the newspapers to say something wrong, that's all. In a perfect world, agents do not talk."
Leave a comment