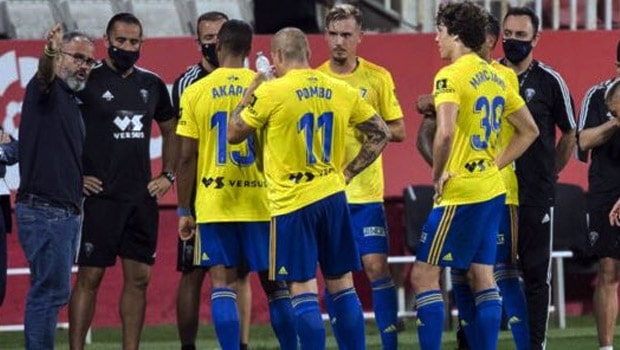 Individual training has resumed at Cadiz CF after three players tested positive of COVID-19.
This was revealed after a PCR test was conducted on the team after Sunday's friendly against Espanyol.
They returned to training after the results of the tests conducted on Wednesday revealed no new cases. This is in line with the established protocol.
This will be the case until the weekend when another round of tests will be conducted. This is also when the result of the new tests will be known. Once all team members get the all-clear, they will likely resume training in preparation for the La Liga opener against Osasuna.
The Spanish LaLiga Santander is scheduled to kick off September 12.
According to a club statement, Alvaro Cervera's men will also have a double session on Thursday and Friday. This is to accelerate the team fitness and set-up ahead of their opening match in La Liga after getting promoted to the top tier last season.
So, the players who tested positive are currently in isolation. So, all the team will do according to the protocol is to test negative by the weekend, prompting group training to begin on Saturday.
It could be recalled that Cádiz had on Tuesday morning announced that three of its personnel had tested positive to the dreaded virus less than two weeks to the beginning of the  2020-21 season.
According to the team, the test was conducted on Monday, and the result came out 24 hours later. This led to the cancellation of training for Tuesday and Wednesday to decontaminate the training ground and other facilities.
The club further revealed that those infected were two members of the first team and one staff.
Meanwhile, Espanyol and Málaga are monitoring the situation. However, La Rosaleda has normal training. Espanyol was one of the most hit by the dreaded virus in March, with ten personnel testing positives.
Malaga, on the other hand, had five cases at the beginning of the preseason.
Leave a comment