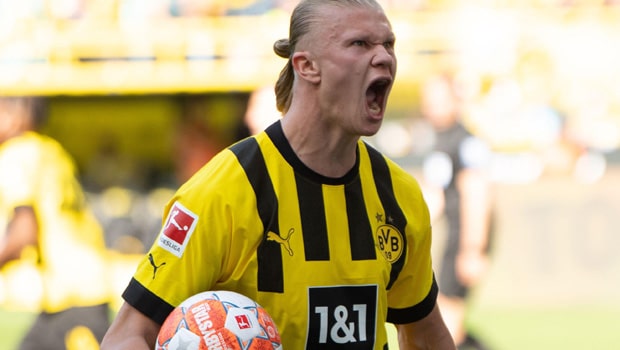 Despite losing the bid for Norwegian striker Erling Haaland to Manchester City, who has captured the services of the forward from Borussia Dortmund this summer, Real Madrid are preparing to snatch the striker from the Etihad Stadium in 2024.
According to reports, the European Champions are ready to trigger Haaland's release clause, which is worth 150 Million Euros.
Real were interested in french forward Kylian Mbappe for most of the summer, with Haaland penned down for the summer of 2023. However, Mbappe stayed in PSG, choosing to extend his contract with the French champions.
Real Madrid president Florentino Perez explained the rationale behind not going for Haaland primarily and instead choosing to chase Mbappe.
"We have the best striker in the world. We can't bring in Haaland, an amazing player, and then bench him. I don't know if Erling Haaland has a release clause in his contract with Man City. I've seen some stories about it, but I don't have anything confirmed." Perez said in an interview.
Super agent Mino Raiola will have preferred a Real Madrid move for Haaland, but his sudden death meant that Haaland's father, Alf-ing, who is an ex-City player, could influence him to join the Manchester club.
However, inserted in his contract details to the Premier League club is a clause that makes his release clause triggerable in 2024 with a price worth 150 million euros.
The clause isn't exclusive to Real Madrid, but the Los Blancos are ready to wait for the 23-year-old.
Real Madrid was led from the front by French striker Karim Benzema as he led them to the La Liga and the UEFA Champions League titles.
Haaland had a fantastic time at Bundesliga side Borussia Dortmund scoring twenty goals in twenty-three games in the league. Manchester City secured his services for 60 Million Euros and has been officially unveiled by the Premier League title winners.
Leave a comment