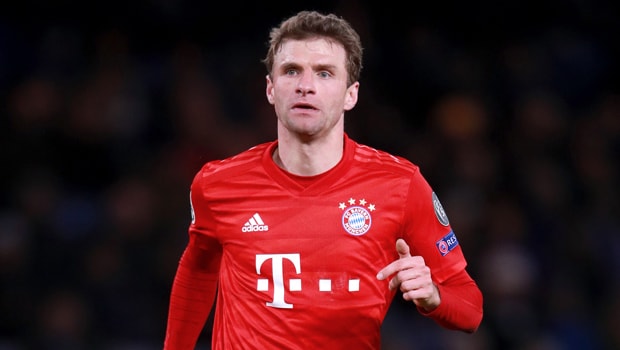 According to the Bundesliga official website, Bayern Munich's Thomas Muller has officially broken and labeled the league's highest assist record holder after his team victory over their opponents on Saturday.
Following Bayern 's 4-2 win over Bayern Leverkusen on Saturday, German Forward Thomas Muller provided two assists out of the four goals, with the first coming after a brilliant interchange with French winger  Kingsley Coman. The second was "crazy" as the 32-year old pinpointedly cross the ball to Robert Lewandowski, which the dangerous talismanic forward converted excellently.
These two assists have now made Muller with the highest assist in league with 20 assists so far this season. And with the statement released on the league official website, that figure [[20 assists]  was the highest in a Bundesliga season.
Kevin De Bruyne and Emil Forsberg were the previous holders in 2014/15 and 2016/17 seasons respectively .though some websites claimed Forsberg was an assist ahead of De'bruyne that year.
However, after a thorough check by a trusted  Bundesliga English content manager, Alex Chaffer, it was concluded that the Swiss and the Belgian both had 19 assists respectively, which was later confirmed by the Bundesliga authorities and rendered the previous claims irrelevant.
Regardless of all these previous and recent claims, the Bundesliga has now confirmed that Muller is currently the player with the highest assist in a single league season.
The forward has been brilliant after his resurgence under Hansi Flick. The way he assists with reckless abandon is top-notch and worthy of emulation.
Bayern Munich thrashed Bayern Leverkusen by four goals as their opponent could only reply with two. Elsewhere Schalke 04 continues to search for a win after salvaging a 1-1 draw with a ferocious strike from Jonjoe Kenny. Dortmund and Leipzig also faltered in their bid to chase down the Bavarians sitting comfortably on the Bundesliga log.
Leave a comment