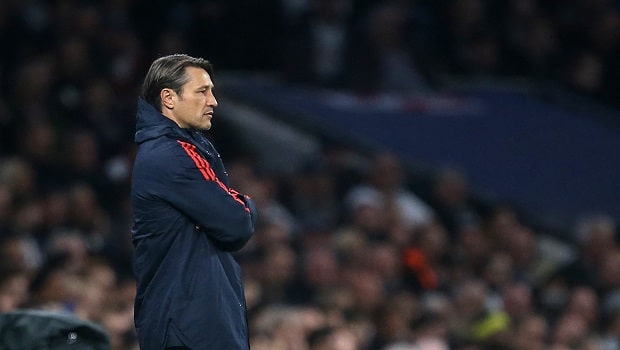 Bayern Munich manager Niko Kovac is reportedly under intense pressure from the club's hierarchy, and they are considering their options if there are no changes in performance and results
Considering a Club like Bayern Munich, there are a lot of responsibilities, expectations, and pressures on a manager. Kovac made an excellent start to this campaign. But they have to experience a downturn in their performances in their last few matches. Their latest victory over Olympiakos in the Champions League on Tuesday was not convincing enough.
The Bavarians have been good attacking wise, but their woes continue at the defence. They continue to concede easy goals. Their inconsistent performances have made way for speculations that he is under pressure and might be sacked.
According to reports emanating in Germany, Bayern Munich is looking at Ralf Rangnick as a replacement for Niko Kovac if their poor performances continue. The reports insist that Club Chairman Karl-Heinz Rummenigge has been a big admirer of Rangnick and wants him to replace Kovac. However, Uli Höeness gave his support to Kovac afterward; the manager went on to win the domestic double.
By the time Höeness departs the Club this coming month, critical decisions will be made by Rummenigge. If the team performances don't improve, then Kovac may be shown the exit door, making way for the appointment of Rangnick.
Rangnick is a prominent figure at Red Bull, and he currently heads the Sport and Development department at the Club. He used to work as Sporting Director and Coach for RB Leipzig and enjoyed success back then. Rangnick is no doubt a brilliant manager and can nurture talents.
Bayern, however, needs to show a lot of patience and support for Kovac. He faced a lot of criticism last season and still managed to win the domestic double.
The Bayern hierarchy has to dismiss these reports if it has no genuine substance. They kept mute last season, which in turn affected the team's performances. Repeated speculations may make the coach lose the dressing room and affect players' morale. Kovac needs time and support to set things back on course again at Bayern.
Bayern Munich are backed at 1.25 win this year's Bundesliga trophy, while close rivals Borussia Dortmund are priced at 6.00
Leave a comment