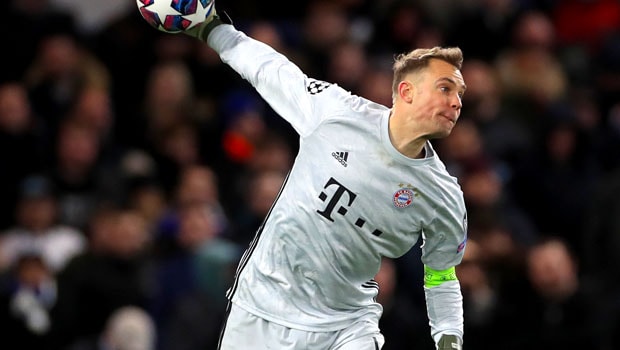 Bayern shotstopper and captain Manuel Neuer have been infuriated at the way some false details about his contract situation was leaked to the general public.
The 34-year old comments came following reports his contract negotiations with the club have hit the ceiling. If the situation continues to remain the same, the skipper will be free to leave the club in June, and this will attract hosts of the club from Europe to employ his services.
According to local reports in Germany, Manuel Neuer, together with his agent Frank Kroth is making a demand for a five-year contract accompanied by a €20million take-home pay per season.
When confronted by reporters by these reports, Neuer said, "All my previous discussions since I got here have been very private and it have never been heard by a third party. But I am surprised by the details of my current contract is being leaked to the media, which most of it is false. That makes me furious, and it's not what I'm used to here in Bavaria."
Neuer's agent Frank Kroth has also debunked talks of his client's enormous wage demands, saying he wasn't applying any pressure or in confrontation with the club considering the COVID-19 crisis, which has made clubs cut the wages of their players.
Following the suspension of the Bundesliga due to the pandemic outbreak, Bayern has tried to put a smile on some of the players in the club following the extensions of  Thomas Muller and manager Hansi Flick contract both until 2023.
Irrespective of the current happenings surrounding his contract Neuer has hailed manager Flick as a brilliant manager, saying that the permanent appointment of the  55-year old as the manager has made him decide to stay at the club.
"I want a situation whereby the contract will be a win-win situation for Bayern and me. I want to give my best and perform at the highest level for the club. The conditions have to be perfect for that". He added.
Neuer, who is a world cup winner back in 2014, has been named world best goalkeeper of the year four times keeping 191 clean sheets. In 373 games for Bayern and making 92 appearances for the Germany national team.
Leave a comment