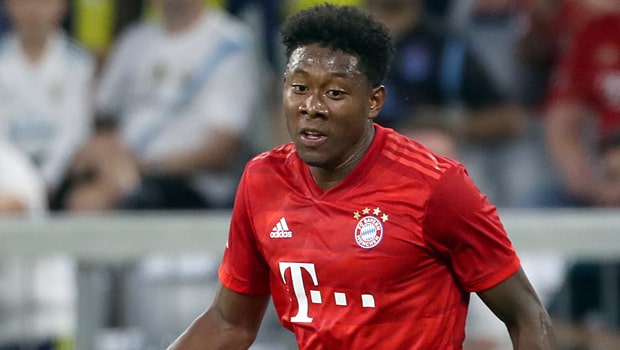 Bayern Munich left-back David Alaba has revealed that he is open for a move away from the club. The Austrian international has been instrumental for the Bundesliga champions this season but has a new challenger for his role at left-back.
The 27-year old left-back who has held down a regular spot in that position[LB] under former manager Niko Kovac and current interim manager Hansi Flick, seems to be uncertain about his future after he admitted that he could leave the club. However, he still tied to the Bavarian outfit until the summer of 2021.
Alphonso Davies, the Canadian youngster who has been brilliant at the left-back, has played so many relevant matches for Bayern. Alaba has filled in at the centre back recently with the first-choice centre again pairing of Niklas Sule and Lucas Hernandez out injured. But their return from injury has cast some doubts on the long-term future of the Austrian international.
The left-back said when faced with some questions as regards his future. " I'm not bothered about that at all. Currently, we have world-class defenders in our team who are out injured". I am trying to help the team with all I've got, and it will be clear soon whether or not I will remain in this position."
When asked about seeking to extend his contract with the club, the defender said he sometimes imagine both staying and trying for a new challenge elsewhere. But his current focus is on helping the club to achieve its goals.
Alaba has been a valuable mentor for the young Alphonso Davies after making four substitute appearances in the first eight Bundesliga game of the season; the 19-year old has since then gone to play the entirety of 90 minutes in each of the Bavarians last seven league outings.
Alaba has also acknowledged how freely he [Davies] has been playing and happy he is doing very well and also hopes the lad can make a name for himself in the club.
Leave a comment