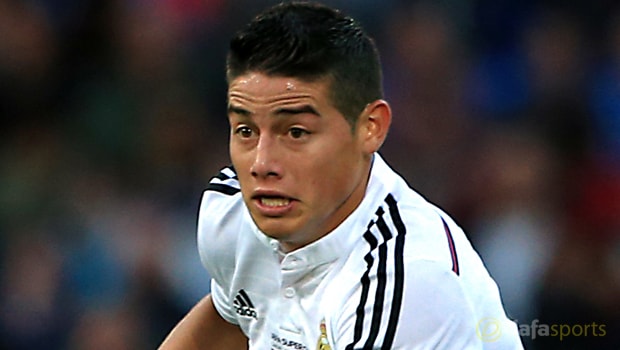 Bayern Munich have not brought in James Rodriguez to replace Thomas Muller, according to boss Carlo Ancelotti.
Some recent speculation had suggested the arrival of James from Real Madrid might be a sign that Muller would be leaving the Allianz Arena.
Ancelotti said James' versatility means he can provide competition for a number of Bayern's stars, not just Muller.
"Of course we didn't buy James to replace Thomas Muller. This is clear, because if you think that you can also think James can replace Thiago, because he has played a lot of times as an offensive midfielder.
And since he can play also on the right you can think we bought James to replace [Arjen] Robben, or to replace [Franck] Ribery because he can play also on the left," said the Bayern boss.
"We didn't buy James to replace anyone, we bought him to have a better team. And also, James knows that if he doesn't deserve to play he doesn't play, he goes on the bench.
As a lot of players go, because we have a lot of competition in the team. He has no place guaranteed for me.
If he deserves to play, he will play." Muller meanwhile was also quick to suggest he welcomes the arrival of the Colombian forward.
At a news conference in Shanghai ahead of a friendly against Arsenal on Wednesday, Muller said he is looking forward to working with his new teammate.
"Personally I think James is a very good player who will improve our team quality and help us reach more goals," Muller said.
"With James joining the team we have more options to choose from. He's an excellent midfielder and he will bring supplementary support to the team."
Leave a comment