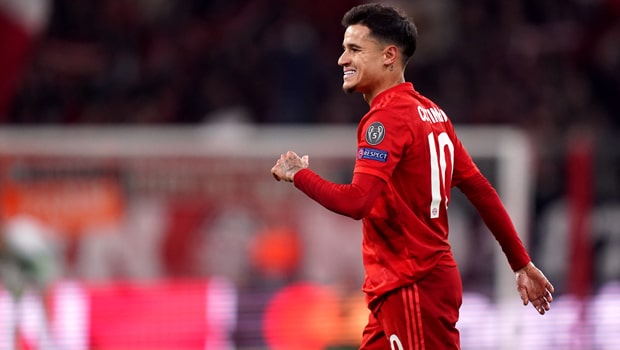 According to reports from Spain, Bayern loanee Philippe Coutinho has expressed his desire to the Catalan giants to stay with the Bavarians.
This is coming from the Brazilian despite having first-team opportunities hard to come by since Hansi Flick took over at the club. However, the club remains tip-lipped over as regards keeping him till the end of the season.
An insider in Barcelona revealed that  Coutinho's plan is not to return to Barcelona and has made it known to the Catalonia club that he wishes to extend his loan deal in Munich. Barca has, however, asked the German champions what their plan was, but the club authorities remained coy.
This takes a look into the James Rodriguez saga it is known that the Bayern Munich hierarchy will exercise patience until the dying minute to see if they will activate their buy-out clause and with the fee which is rumored to be around €120m together worth the wages of Coutinho sky-rocketing, it is a general feeling that Bayern will opt to keep the Brazilian star beyond the duration of his loan.
It's a pity Coutinho is being tossed because, unlike James Rodriguez, Coutinho has been professional all through the duration of his loan instead of underperforming for Madrid, the midfielder seems to be enjoying his loan deal in Germany.
Coutinho is a very good player but however he just doesn't fit into the team's tactical plans at the moment. He is not a winger; neither is his playing style like that of Thomas Muller when he played in his natural position on big games like Leipzig, Dortmund, and Schalke, and it is clear as the day why Flick prefers other players over the Brazilian.
Questions arise as to what the future holds for Coutinho. Reports have it that Barcelona has lowered their asking price, €90million to offload the ex-Liverpool man. And it is understood that the amount is way too much for Bayern to acquire him permanently. It remains to be seen where he will end up after he leaves Bayern.
Leave a comment