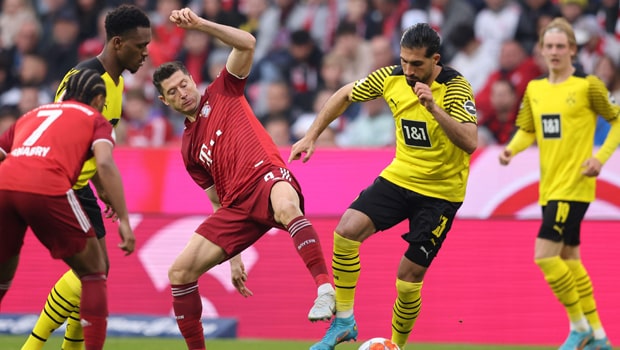 Der Klassiker took center stage Saturday as Bayern Munich dominated from the get-go against Borussia Dortmund in a 3-1 win that earned Bayern its tenth straight league title.
Serge Gnabry found the back of the net early before Robert Lewandowski's clinical finish made it 2-0 before the break. Emre Can's penalty made it 2-1 soon after the break (52′), but Jamal Musiala (83′) put the match out of reach for the opponents.
Lewandowski has now scored 23 goals in 16 Bundesliga meetings against his former club Dortmund.
Bayern Munich became the first team in Europe's top five leagues to win ten consecutive league titles. Julian Nagelsmann — at 34 years of age — becomes the second-youngest coach ever to win the Bundesliga.
"I know that I can do things better," Nagelsmann said. "I'll still keep my style, but adapt a few things. We'll stick to the familiar basics a bit more and reduce the new and variable things a bit."
Thomas Muller won his 11th Bundesliga title, the most of any player.
"We absolutely wanted it today," Muller said after the win. "There has been a lot of frustration over the past few days. Becoming German champion is the most beautiful thing. Champions League is of course the icing on the cake. But the Bundesliga is what fans go to stadiums for."
Muller has played in 413 games in the Bundesliga, recording 151 assists and 136 goals.
Gnabry has now scored 13 Bundesliga goals this season, the most he's ever managed in a single league campaign in his career.
The performance overall was a much-needed boost for the home crowd as they saw Bayern bow out in the Champions League as they lost to Villarreal.
"It wasn't an easy season for me," Nagelsmann added. "It was so important to win and secure the title today, so I'm very happy. The beer shower felt good but it was quite cold. I'm still freezing."
With all reports indicating this may be Erling Haaland's last season with Borussia Dortmund, the side agreed to a deal with RB Salzburg forward Karime Adeyemi this week. He will join the club this summer.
"That wouldn't come as a complete surprise to us now," Borussia Dortmund director Michael Zorc said when asked if Haaland will move to the Premier League in the summer.
Leave a comment