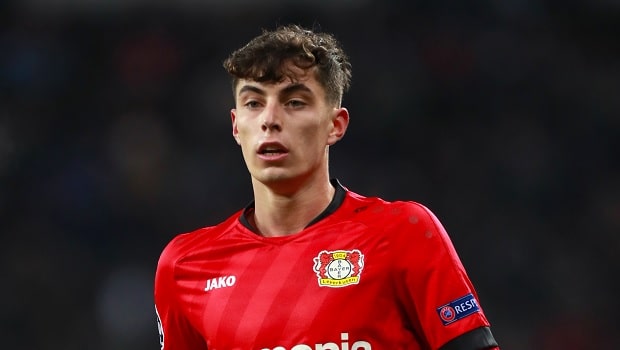 Bayer Leverkusen youngster Kai Havertz has made a decision on his future temporarily, at least for the January transfer window, after choosing to stay at the club till the end of the season.
The 20-year old has been serially linked with some of Europe's top sides including Manchester United, Liverpool, Tottenham and Chelsea.
The German youngster has been involved in three goals for the Bundesliga club this season in sixteen appearances and wants to continue till the end of the season.
However, despite his decision to stay the youngster will prefer tojoin the Red Devils and his employers have quoted a price in the region £111m with German Champions Bayern Munich and Spanish La Liga winners FC Barcelona also interested.
According to the player, the 2018/2019 season, where he scored 17 goals and assisted three in thirty-four appearances, set the benchmark which he is trying to follow, the player the concede it has been quite difficult to keep up and meet up with them after starting the season with two goals in two appearances.
However, he hasn't been able to follow up with the early season form, and he admits it was always going to be difficult to meet up as a youngster.
Manchester United will face Colchester United next on Wednesday in the Quarter Final of the Carabao Cup after playing out a 1-1 draw against Everton on Sunday in the English Premier League. Victor Lindelof had scored an own goal to give Everton in the first half, but Mason Greenwood equalized in the second half I the seventy-seven minute.
On Monday, Manchester United's opponents for the round 32 of the Europa League was released, and the Red Devils will face Club Brugge while their next English Premier League game against Watford away from home.
Leave a comment