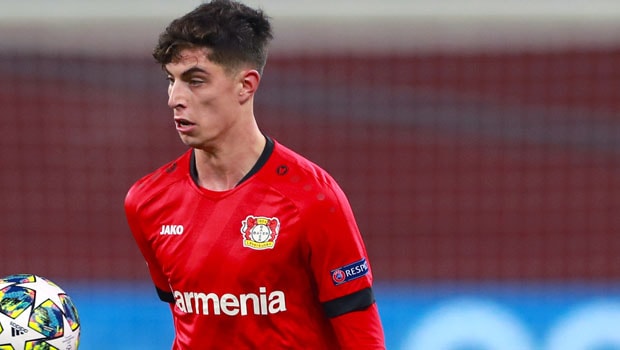 Bayern Munich reportedly remains the destination for young German player Kai Havertz as he seeks a move to Bavaria.
The resumption date for the transfer window remains unknown as the current season continues suspended due to the COVID-19 pandemic outbreak. But that hasn't stopped the Bundesliga champions from adding to their attacking ranks as recruitment in that position will be their top priority as soon as the transfer window resumes.
Bayern Leverkusen star Kai Havertz is among the players who continue to remain linked to the Allianz Arena for the past 18 months. Leverkusen has admitted they won't be able to keep hold of their star for long as several clubs across Europe have been vying for his signature.
However, the latest reports emerging from Germany revealed that Havertz is keen on a move to Bayern when the transfer window reopens. The reports further explain that manager Hansi Flick is looking forward to work with him.
Bayer Leverkusen has said they will not allow their most prized asset leave on a cheap as they are demanding a substantial transfer fee, which is yet to be disclosed.
With the look of how economies are around the world, players might bot command such high transfer fees as clubs are looking to cut their budget and players' wages reduced to a certain percentage.
Uli Hoeness, who was once a former President of the club, explained that transfers with high figures are not likely to happen during the summer.
With Leroy Same and Havertz being linked with the club, with expectations of the high transfer fee is for both players on the horizon, clubs can't demand a significant figure as they won't have the option of increasing the transfer fees due to the economic situation across the globe.
If Havertz eventually makes a move down to Bavaria, it will bolster the attacking department of the Bundesliga champions. The versatile 20-year old midfielder has been in tremendous form for Leverkusenas he looks to bring his side to finish strong on the league table.
Leave a comment