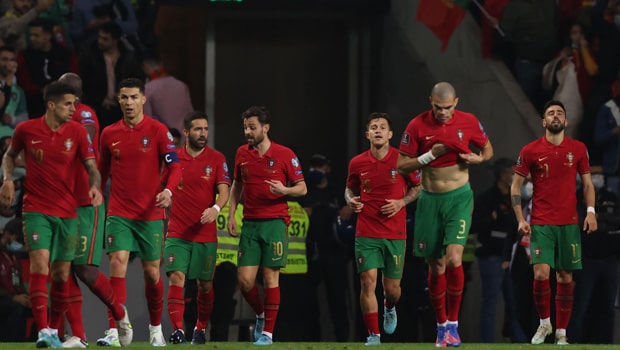 Portugal midfielder Bruno Fernandes has revealed why skipper Cristiano Ronaldo was angry despite the team qualifying for the 2022 FIFA World Cup. Fernandes stated that Ronaldo sets himself high standards as a striker and as he couldn't score, he was not happy.
Meanwhile, Portugal booked their place for the FIFA World Cup after Bruno Fernandes scored a brace against North Macedonia. The Manchester United midfielder found the back of the net in the 32nd minute after Ronaldo provided a nutmeg assist to him. Fernandes doubled Portugal's lead in the 65th minute of the game.
However, Ronaldo had his chances throughout the match but could not grab them. In fact, the talisman was not at his usual best and could not complete many passes. Thus, frustration was palpable on Ronaldo's face.
The Portugal captain was also not happy after Bruno Fernandes decided to take a shot at the goal when he had the option of passing the ball to the team's number 7. However, Portugal did dominate the contest against North Macedonia.
Speaking to TUDN, Fernandes said, "Because he's the striker, he wants to score goals, it's normal, Cristiano, like any striker, lives off goals, if he can't score them, frustration is normal, I want him to be angry if he doesn't score, because I want him to score goals all the games, for me he has to do them, not that he has the obligation, but because he is our striker, we have the obligation to try to follow the strikers in the best possible way."
"I want him to be angry, Jota to be angry, Joao Félix , all the other strikers, André , everyone has to be angry if they don't score goals, happy because we won the game, but angry because they don't score goals, it's the striker's job , score goals."
Meanwhile, Ronaldo could even score against Turkey when Portugal had won by 3-1. However, this will be Ronaldo's fifth World Cup on the trot and it could well be his last. The talisman has played 17 matches in FIFA World Cup for Portugal in which he has scored seven goals for the national team.
"Goal achieved, we're at the Qatar World Cup," Ronaldo said on Instagram. "We're in our rightful place! Thank you to all the Portuguese people for the tireless support! Let's go Portugal!"
Leave a comment