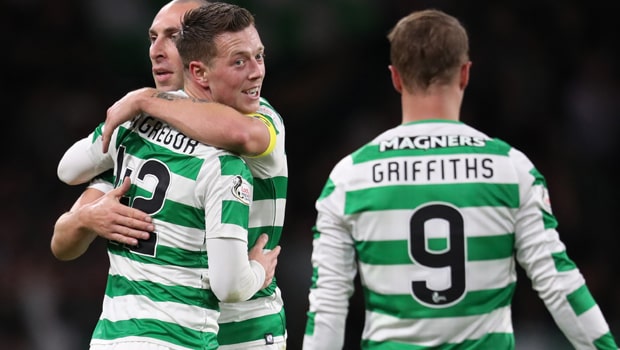 Callum McGregor says he is better-equipped to deal with big games the more he plays in them.
The Celtic midfielder is facing a crucial UEFA Nations League double-header with Scotland against Albania and Israel and is ready for the challenge.
It isn't that long since McGregor's exclusion from the Scotland set-up under Gordon Strachan was a major talking point, but he's now establishing himself under Alex McLeish in the national team.
He may only have seven senior caps but McGregor's big-game experience with his club is helping him develop rapidly.
"I have experienced a lot of big games now and I think that helps you," he said.
"It relaxes you. You know that you have been in difficult places before and come out the other end having been successful.
"From a personal experience, the more you see it, the more calm you are about it. You know this is what you need to do to get through it."
Scotland defeated Albania 2-0 in Glasgow in September and will be aiming to repeat the trick on Saturday evening in the return game.
A win will set them up nicely for Israel at Hampden Park on Tuesday, where they can take top spot in their Nations League group – so long as they avoid defeat in Albania.
With the Celtic players and Liverpool's Andy Robertson all having European experience, McGregor suggests Scotland should be ready for their task.
"You know that it is always tough to go away from home, especially these places where it is the back of nowhere," said McGregor.
"The atmosphere can be slightly different to the European stuff but the more you experience that the more it helps you as a player.
"The Celtic lads in the squad will be trying to help the other lads with that and Andy has had a lot of that too of going to different places.
It is about coming together and trying to harness that experience that we have got and trying to take it into the games."
Scotland are 2.38 to win in Albania on Saturday. The home side are 3.25 while the draw is 3.00.
Leave a comment