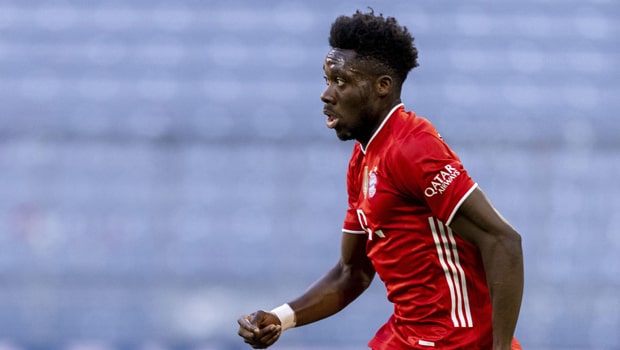 According to the latest reports, Bayern Munich star Alphonso Davies has suffered cranium damage following a clash with Dortmund's Jude Bellingham.
The left-back hit his head after the Dortmund midfielder raised his foot high following a close contest of the ball.
He was finally replaced in the 46th minute as Josip Stansic came in to continue in the Left back role.
However, there hasn't been great news from the treatment room after results showed there were bruises to his skull, with a return date not set.
Manager Julian Nagelsmann also expressed his frustrations towards the tackle after the game claiming the England international should have been sent off after initially being shown a yellow card for a challenge on Jamal Musiala in the 14th minute.
Asked how he felt about the challenge, the Bavarian boss revealed it was a blizzard tackle.
" I watched the replay over and over again; that should have been a red card, in my opinion. Jude was not anywhere close to the ball. For me, that is a rough tackle on the face, and I'm not pleased with it." He said.
The Bavarians surrendered a two-goal lead after Leon Goretzka and Leroy Sane put the visitors ahead in the 35th and 53rd minute, respectively.
The Black and Yellow side, however, gave a hard fight as they pulled one back in the 74th minute through Yousouffa Moukoko before a Modeste 95th-minute header made sure both sides settled for a point.
Saturday's draw showed a spirited Dortmund side and a Bayern side who lost focus during the game. With 2-0 up, Bayern failed to take hold. of the game as they switched off, allowing Dortmund a chance. This is a game Nagelsmann would not be pleased with, as they missed the opportunity of cementing the top spot on the log.
Bayern dropped to third on the table with 16 points, followed by rivals Dortmund with fifteen points, as Union Berlin returns to the summit after a narrow win over VFB Stuttgart.
Bayern resumes their aspirations in Europe as they travel to the Czech Republic for a return fixture in the Champions League Group C.
Leave a comment