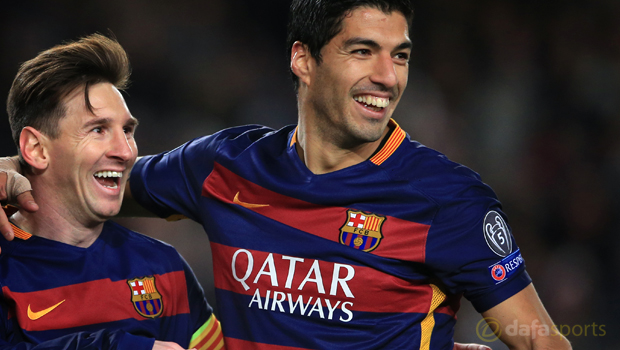 Neymar and Lionel Messi have been named on the three-man shortlist for the 2015 Ballon d'Or award but they are both disappointed Barcelona team-mate Luis Suarez has missed out.
2014 winner Cristiano Ronaldo of Real Madrid completes the three man list, but Messi and Neymar think Suarez deserved a place in the top three.
"I am happy to be once more among the three best, and to go to another gala," Messi told reporters. "Happy to be with Neymar. Luis Suarez also deserved to be among the three best, but that is to take nothing away from Cristiano Ronaldo, who also deserved it."
Neymar also showed his support for Suarez and he is delighted to be on the shortlist himself, but he expects Messi to take the award when the ceremony takes place in January.
He said: "I believe that the image of the Ballon d'Or should have been Messi, Luis Suarez and me; I would have loved to be there all together.
"To be nominated for the Ballon d'Or means everything. It is an honour for me."
He added: "Messi is the favourite to win the Ballon d'Or for the season he had. For me, he is the No. 1."
If Messi takes the award it will be the fifth time he has won the prestigious individual prize.
Barcelona are 3.50 to win the Champions League outright and Real Madrid can be backed at 6.50.
Leave a comment