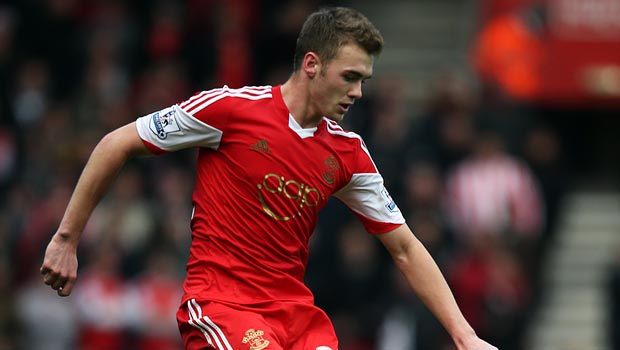 Arsenal manager Arsene Wenger has admitted that the imminent signing of Calum Chambers from Southampton could be a gamble.
Chambers has already completed his medical ahead of the move, which could go through on Monday.
The 19-year-old has only made 18 appearances in the Premier League since 2012 but he now looks to set to compete for a starting spot at the Emirates this season.
The Gunners have reportedly agreed a £16million fee with the Saints for Chambers as Wenger looks to bolster his squad ahead of the new season.
Wenger has already signed Alexis Sanchez, Mathieu Debuchy and David Ospina but he is actively looking for more new players should the correct deals arise.
Chambers competed with Nathaniel Clyne last season for the starting right-back spot at St Mary's but did show glimpses of his potential while playing under Mauricio Pochettino.
Although Wenger usually bides his time in the transfer market, he has admitted that signing Chambers could be a gamble.
However, the Frenchman is confident he can deliver.
He told reporters: "He can play at centre-back, right-back and central midfield. I hope he will give us competition for the players in these three positions.
"He hasn't played many games, no, but the English players on the market in England are very expensive and at the end of the day I was ready to take a gamble because he is a player for the future."
Leave a comment