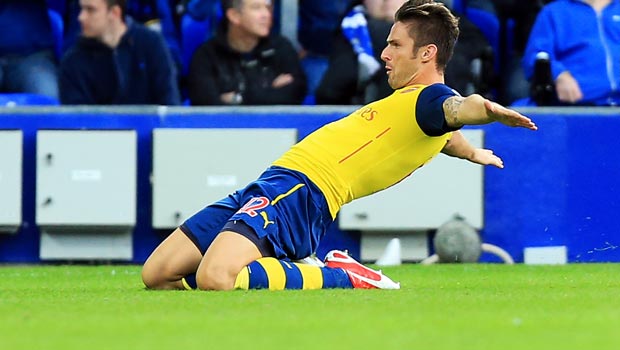 Arsenal striker Olivier Giroud could be set to return to action sooner than expected, according to manager Arsene Wenger.
The Frenchman suffered a broken tibia in a 2-2 draw with Everton at Goodison Park in August.
He was initially been ruled out for four months, forcing Wenger to dip into the transfer market to sign Manchester United striker Danny Welbeck.
However, Wenger now believes his forward could be playing alongside Welbeck before the turn of the year.
In an interview with beIN sports, Wenger said: "Olivier Giroud is recovering very well. I believe he is ahead of schedule in terms of rehabilitation. The operation went perfectly."
Meanwhile, Laurent Koscielny, Giroud's Arsenal and France teammate, has backed his fellow countryman to continue to be a vital player for the Gunners once he returns to full fitness.
"Olivier is an important player for us," Koscielny told the official club website. "He's very strong during the game and he's scored a lot of goals. So for us it's very difficult to lose him. But I know him and I know he will come back stronger.
"He will want to show everyone that he can be a very good player and a good striker in the Premier League and in Europe. It is important for us that Olivier keeps this mentality and comes back stronger for us."
In Giroud's absence, Welbeck is expected to lead the line once more when Arsenal host Hull City on Saturday, with the Gunners 1.40 to win against Steve Bruce's side.
Leave a comment