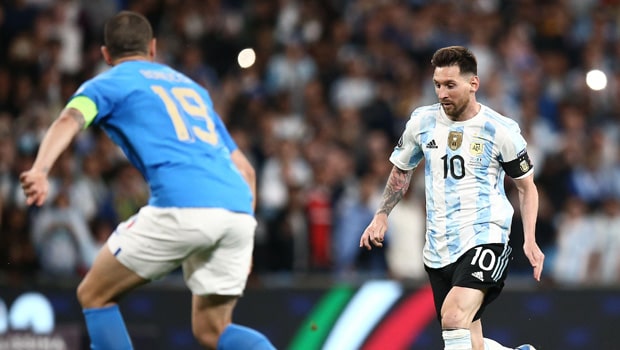 It was really a sensational performance from Argentina as they bagged the Finalissima trophy after winning 3-0 against the European Champions Italy at the Wembley Stadium. Players like Lautaro Martinez, Angel Di Maria and Paulo Dybala registered their name on the scoresheet as Scaloni's men simply swept the Italians in the big stage.
Lionel Messi did not get on the scoresheet but he was once against the main engine for La Albiceleste. The Paris Saint Germain forward had a great game where he came up with two assists in a game where Argentina simply dominated Roberto Mancini's men and once again proved how Argentina are one of the forces to be reckoned with in the upcoming World Cup in Qatar.
The seven time Ballon d'Or winner won the Man of the Match award for his sensational performance in the Finalissima. Speaking about the game on TyC Sports, the Argentine maestro highlighted how Chelsea midfielder Jorginho controlled everything in the middle and forced them to change their style of play to neutralize the Italians. He feels that scoring the first goal of the game gave the Albiceleste the momentum that they needed to spur forward and score more goals.
"It was a close match until the first goal. They are a great national team and up until the first 20 minutes, it was difficult for us to control Jorginho, he was playing alone and we couldn't get the hang of the pressure. But after the first goal, the game completely changed," Messi shared after winning the match against Italy.
The Finalissima will be the second international trophy won by Lionel Messi who will be aiming to bag his first World Cup trophy later this year in Qatar. This Argentina team have a lot of depth and quality in every position.
The Albiceleste are no 32 games unbeaten under the manager Lionel Scaloni and Messi is lovibng the new atmosphere filled with some great youngsters and some experienced veterans. Argentina have been drawn in a group alongside teams like Mexico, Poland and Saudi Arabia.
Italy on the other hand have suffered yet another disappointment. Nothing has gone right for Roberto Mancini's men after winning the Euros beating England. They failed to make the cut for the World Cup finals in Qatar and now they lost the Finalissima against Argentina as it was a chance for them to salvage some pride which was denied by a terrific Argentina side.
Leave a comment