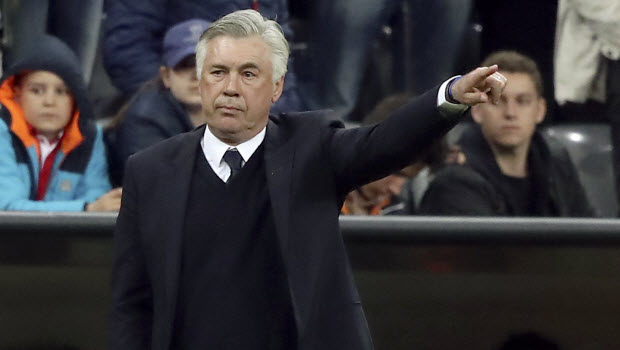 Bayern Munich boss Carlo Ancelotti may have comfortably sealed the Bundesliga title in his debut season but he admits to 'big regrets' over their recent travails in knockout football.
Bayern sealed their 27th German league title and their fifth Bundesliga crown in a row with a thumping six-goal rout of struggling Wolfsburg on Saturday.
It put the seal on a pleasing triumph for their Italian boss but Ancelotti admitted that recent defeats to his former club Real Madrid in the Champions League and domestic rivals Borussia Dortmund in the DFB Pokal semi-finals had removed some of the gloss from his season.
Dortmund came out best 3-2 in the domestic competition while Bayern were deemed to be rather unfortunate extra-time losers in the Spanish capital when Real benefited from some questionable refereeing decisions in the Champions League last-eight second leg.
"I'm really happy, especially after our difficult period," Ancelotti told Sky Deutschland. "Of course, there are big regrets about the last 15-20 days. I think we could do better.
We could have been luckier. In some situations, it was our fault and we can learn from this to be better next season. But now is the moment to celebrate."
Ancelotti is the first manager to win a title in four of Europe's top five leagues, adding his triumph with Bayern to wins in Italy (AC Milan 2004), England (Chelsea 2010) and France (Paris Saint-Germain 2013).
Despite their troubled times in knockout football, Ancelotti recently got a vote of confidence from club CEO Karl-Heinz Rummenigge and he is thankful for his current position.
"It was a fantastic experience here in the Bundesliga," Ancelotti added. "I think we did a good job this season. I am very lucky to be here. "I want to say thanks to this fantastic club, the players and all the fans who have supported us all season.
We deserved it because we played good football and were focused."
Bayern's European conquerors Real Madrid are 2.63 favourites to retain the Champions League while city rivals and last-four opponents Atletico are 5.00 to lift the trophy.
Leave a comment