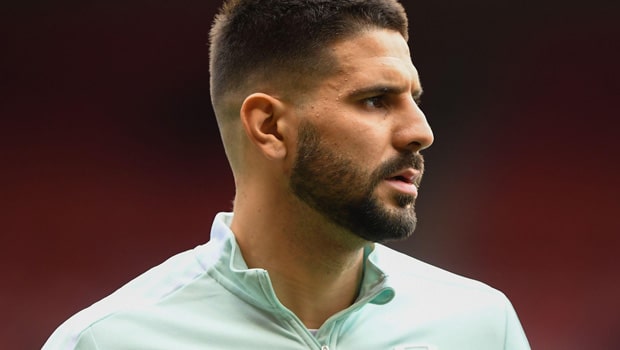 Serbia's Aleksandar Mitrovic celebrated with teammates after scoring a late winner vs Portugal that secured the country's spot in the 2022 World Cup.
Serbia clinched an automatic bid for the '22 World Cup in Qatar after a 90th minute header by Mitrovic who had come on at halftime.
"We came here to play football and having been the better side, we earned it all," Mitrovic said. "We are reaping the rewards of hard work and the belief that we would be able to defy the odds and beat Portugal. We are overjoyed, for our country and the people first and foremost."
The 2-1 victory lifted Serbia into top spot in the group with 20 points, three more than Portugal. Portugal will now head into the playoffs to potentially make it to the World Cup.
"We deserved to win tonight as the lads showed so much character," Serbia coach Dragan Stojkovic said. "This is a massive accomplishment for Serbian football. "The team showed maturity and composure under the most intense pressure and I would have said the same thing if it had stayed 1-1 and we got confined to the playoffs."
Mitrovic in World Cup qualifying for Serbia: 8 games, 5 starts, and 8 goals.
"We have to take responsibility because we had a poor game," Portugal midfielder João Palhinha said. "We just defended in the second half. Credit to Serbia, they played very well but we had the capacity to be on top. "Everyone in the dressing room is disappointed but we have to look ahead to the play-offs now because we are more than good enough to be in the World Cup. You can't win all the time. Difficulties are part of life and this feeling should give us more strength."
The playoffs will feature 12 teams, with three eligible to move forward to the World Cup.
Serbia won the possession battle 57-43, but both sides finished with 3 shots on goal.
Portugal — heading into the match — needed just a draw to punch a ticket to next year's World Cup.
All looked on par following Renato Sanchez' goal in the second minute to make it 1-0 for Portugal. Sanches scored his first competitive goal for Portugal since his goal vs Poland at Euro 2016.
The rest of the match, however, was a whole different story.
"We started well; we scored a goal," Fernando Santos, Portugal coach, said. "Then we started to not have the ball, drop deep and arrive late to the ball. We found it hard to get our marking right. I tried, the players tried, they fought hard. The message wasn't to play like that. If the idea was to draw, we wouldn't have played like this, in a 4-3-3."
The draw for the FIFA World Cup 2022 play offs will take place on Friday, 26 November 26, 2021.
Leave a comment