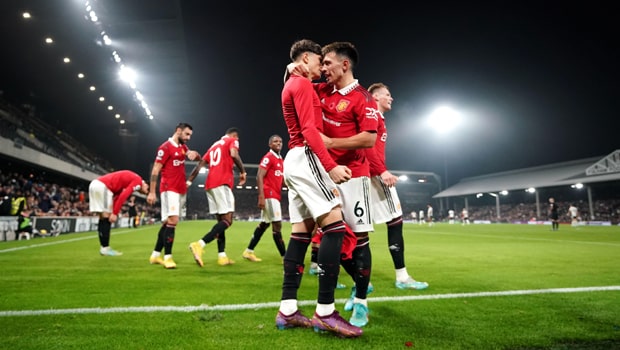 Alejandro Garnacho scored in the third minute of stoppage time to steal three points for Manchester United as Erik ten Hag's side remain in striking distance of fourth-place Tottenham heading into the World Cup break.
United are just three points behind Tottenham in the No. 4 spot of the Premier League table.
"It's a massive win and Alejandro Garnacho had a big impact," ten Hag said. "He finalized and then the spotlight is always on that and that is justified because it was a great finish. It's what we expect from subs coming on but you have to do it and I'm really happy with his progress. We have an extra player in the squad."
At just 18 years and 135 day sold, Garnacho is now the youngest player to score an injury-time winner in the Premier League since Federico Macheda (17 years and 226 days) in April of 2009, also for Manchester United.
"He has a lot of talent, and his work rate, together with the talent, makes a big difference with us from the bench," United's Bruno Fernandes said of Garnacho. "It's not the first time he makes a big impact for us. We are really happy for him and know he can give us goals, assists and prove the joy of football."
Christian Eriksen scored his first goal for Manchester United within the first fifteen minutes, ending a 19-match dry run since joining the club as a free agent this past summer.
Fulham evened the match at one goal apiece thanks to a Daniel James goal against his former club just after the hour mark.
The club was once against without Aleksandar Mitrovic.
"Of course, it's really tough to take," Fulham manager Marco Silva said. "Twice in seven days for us with a late goal and we lost the chance to have more points in the table. With the way we have been playing, it's really tough, but this one is different because I think we were the best team on the pitch."
Fulham won the possession battle 52-48, with seven shots on goal compared to 9 for United. Fulham did have 10 corner kicks compared to just three for United; Fulham just failed to make the best of their opportunities.
Fulham are back in action away at Crystal Palace on Boxing Day after the World Cup break. Manchester United will host Nottingham Forest on 27 December.
Leave a comment