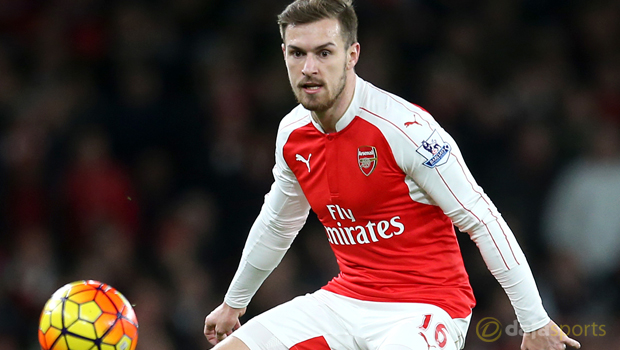 Aaron Ramsey says it is important that Arsenal stick to their principles as they look to deal a body blow to Premier League leaders Leicester City at the Emirates Stadium.
The Welsh midfielder admits that the Gunners must be wary of Leicester's ability to counter attack at pace but he feels the best way of doing that is by starving Claudio Ranieri's men of the ball.
Leicester lead the way in the title race by five points from Spurs and Arsenal ahead of one of the biggest afternoons of the season to date.
Manchester City meets Spurs at the Etihad after Arsenal host Leicester in what could be a defining day.
Ramsey says Leicester's success on a small budget has been refreshing but he would like to see it end now.
"I think it has been quite refreshing, with the amount of money they have spent as well to have a team like them, bottom at one stage last season and top now. But hopefully they don't stay there for much longer," he told Sky Sports.
Ramsey is fully aware of the qualities Leicester possess and how they will look to go about hurting Arsenal in a similar to that which helped them beat Man City a week ago.
"We have to be aware of their threat in behind on the counter attack.
That's the biggest thing they do, they like to sit off and then they like to break at pace.
"We're going to have to be very careful about," he added.
While clearly respectful of what Leicester will bring to the party, Ramsey says it is much more important that Arsenal retain focus on what they do well themselves.
"We're Arsenal, we like to play the way that we do, which is dominate the ball while trying to express ourselves, trying to break them down that way. Hopefully we can do that."
Arsenal are 3.00 to be Premier League champions this season. Leicester are 3.25 with Man City available at 4.00.
Leave a comment