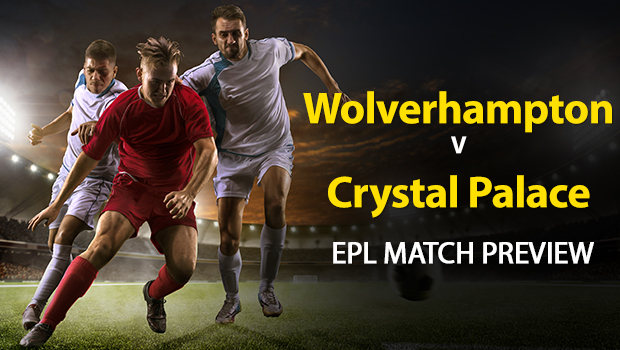 Wolverhampton vs Crystal Palace
It's a quick turn around this week for Crystal Palace as they head back to Selhurst Park after the match vs AFC Bournemouth to host Wolverhampton on Saturday.
Let's take a closer look at where the value's at in this match.
Team to Win (Regular Time)
• Crystal Palace: 2.78
• Draw: 3.20
• Wolverhampton Wanderers: 2.80
Spread
• Crystal Palace -0.5: 2.66
• Wolverhampton +0.5: 1.50
Total
• Over 2.5: 2.03
• Under 2.5: 1.87
What to Watch For
Betting on the Draw: Odds — at 3.20 — indicate there's under a 31.3 percent chance the match ends in a draw. There's a draw in under 28 percent of AccuScore sims, suggesting no added value on the draw.
The average score after 10,000 simulations is 1.52 – 1.18, in favor of Crystal Palace.
Help off the Bench: Wolverhampton were the beneficiaries of some strong substitute play their last time out as a pair of subs helped lead them to a 2-0 win over Southampton. Keep an eye on Ivan Cavaleiro who scored just two minutes after entering the game.
Making History: Crystal Palace — at the time of publication — are sitting at 99 Premier League wins in club history. They'll more than likely become the 22nd side to reach the 100-goal mark this week, either against Bournemouth or Wolverhampton
Dominating the Pitch: Wilfried Zaha has scored 75 percent of Crystal's goals this season, including a goal in each of the team's away games.
Head-to-Head: These two sides have never faced off in Premier League action. They last played each other in January of 2013 (League Championship) when Crystal Palace won, 3-1.
Projected Leaders
Diogo Jota has a 25 percent chance to score, averaging 2.2 shots overall per sim, 0.84 shots on goal per, and 0.28 goals per sim.
For Crystal Palace, we'll have our eyes on Wilfried Zaha who has a 35-plus percent chance to score. He averages 2.5 shots overall per sim, 1.05 shots on goal per and 0.44 goals per sim.
Analyst's Pick
Crystal Palace to win.
Odds — at 2.78 — indicate Burnley have a 36 percent chance to win the game. They win close to 45 percent of AccuScore sims, indicating some added side value on the pick. Crystal Palace winning this match is a two-star (out of four) AccuScore hot trend.

Leave a comment