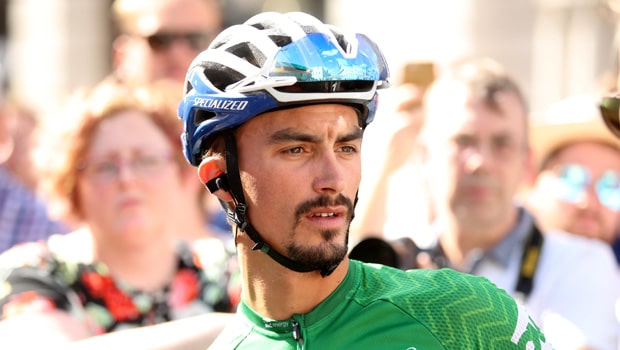 World champion Julian Alaphilippe has said he would have loved to win the Tour de France.
Alaphilippe pointed out that it is the race he would most like to add to his palmarès. However, that is not stopping him from targeting the general classification in 2021.
Alaphilippe, who has been aiming to win the world title, landed the rainbow jersey in Imola in September.
Speaking on Eurosport's Bistrot Vélo show, Alaphilippe admitted that the victory he now coveted above all others is the Tour De France.
After winning the World Championships, it is expected that Alaphilippe will want to add that to his accolades.
He further revealed that apart from the Tour de France, he would also love to win Monuments and Classics, but his priority is the Tour.
Alaphilippe finished in the fifth position at the 2019 Tour, wearing the Maillot Jaune for two weeks. After failing to make make a concerted bid for the general classification in 2020, having won the stage 2 in Nice and held yellow for three days, the Frenchman placed 36th overall in Paris.
Speaking ahead of the 2021 season Alaphilippe said he is motivated with the opening stages that suit him well.
However, he is not jumping the gun as he now thinks about preparing for the start of the season while the Tour comes a bit afterwards.
Alaphilippe aims a return to the Tour of Flanders after suffering a crash on his impressive debut last month. The crash, which left him with a double fracture on his right hand ended his winning move.
The Frenchman, who stated that it was the race he liked, said going back to the Tour of Flanders will be part of his objectives for the start of next year. He is confident of doing a big block at the start of the season with all the Classics.
Leave a comment