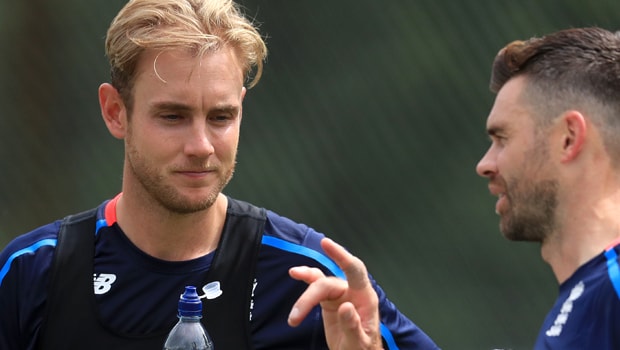 Stuart Broad has accepted that he may not play in every Test against India in the upcoming series.
England meet India in the first Test of a five-match series at Edgbaston on Wednesday.
The series will be played over a six-week period, and that is likely to test the fitness of England's two leading pace bowlers.
Broad is 32 and Jimmy Anderson 36; they have played 256 Test matches between them taking 957 wickets but five potentially five-day matches in such a short space of time may take its toll and Broad admits it is unlikely the two will play all five matches.
He said: "We will have to play that by ear. It will depend on tosses, pitches and workloads.
"If we have two Tests of 250 overs in the field each, it's unrealistic to think your seam bowlers will play five Tests in six weeks, but if you have a Test where you bowl them out in 80 or 60 overs that changes your thinking.
"There have already been small conversations saying about don't be disheartened if you are left out for a Test match, it's not a personal attack or dropping – it's a management of your bowlers."
Both bowlers, along with former skipper Alastair Cook, were missing from the recent one-day series against Australia and India, while Broad and Anderson have only played one first class match each in the past month.
England won the recent ODI series between the sides but India are the number one Test ranked side and they beat England 4-0 at home in the last series between the sides in 2016-17.
England are 1.91 to win the first Test with India 3.10 while the draw is 4.00.
Leave a comment