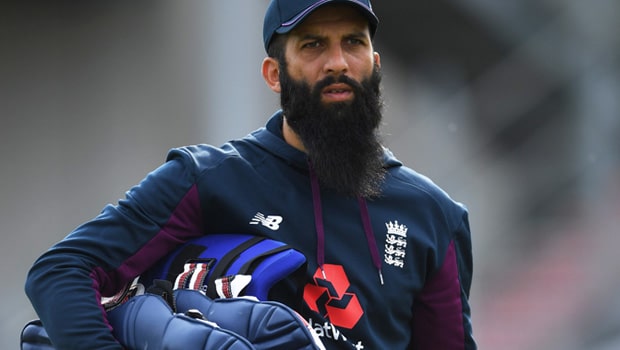 Moeen Ali has tested positive to coronavirus after his side landed in Sri Lanka on Sunday. The all-rounder tested negative in the test they had before leaving England but his PCR test results, which was conducted at the airport there in Sri Lanka came back positive. He would now begin a 10-day isolation period as mandated by Sri Lankan laws.
England is in Sri Lanka for a two-Test tour which would begin on Janurary 14. Fellow teammate Chris Woakes has been tagged as a possible close contact and would now self-isolate while further tests are conducted.
Ali is the first English player to test positive to the virus. Last year's summer, after the lockdown was lifted in England, the country played host to many countries and there were no positive cases. There was a mild scare last December in Cape Town when England had two positive cases that later turned out to be false. England's tour in South Africa had to be cancelled after that.
England is set to begin training on Wednesday after a fresh round of tests have been conducted on Tuesday. There would be further tests on Thursday and Friday. A spokesperson for the ECB said it was too early to confirm if Ali would eventually play the Test, but seeing that his isolation period ends a day before the Test begins, he just might have a chance to feature in, at least, the second Test which he would be better trained for.
The players are quarantined in individual rooms in a hotel where they would observe strict health protocols. They are currently in Hambantota but they would move to Galle on January 10 to prepare for the Test. Ali would arrive Galle on January 5 and would be lodged in a hotel different from the ones that would be used by his teammates.
Days ago, captain of the English team, Joe Root said that one or two positive cases would not be enough reason to cancel the Test, expecting Sri Lanka to be able to manage things should in case there are incidents.
Leave a comment