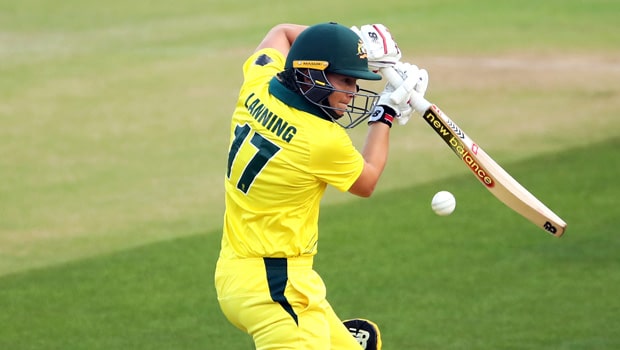 Australia women's team captain Meg Lanning is delighted over the chance she is about to get in the middle' in the 50-over format. This is following her team's series victory over New Zealand, where she recorded an unbeaten 101.
Although Australia won the three-match T20I series that preceded the ODIs, Lanning was frustrated because she scored paltry back-to-back 20s in those fixtures.
She, however, started with a 62 in the ODIs' first game and followed it up with a century that gave Australia the ODI series too.
Describing the T20 series as frustrating for her, Lanning said it wasn't all the batters that had rhythm on either side of her. While noting that 20s is better than 0, she said it was annoying, especially having a couple in a row.
Now that she has stepped up, she said it's been nice to spend more time in the middle during the 50-over format.
While there was no scoreboard pressure to get moving in the T20 formats, it was a little more natural for her to play her game and build her innings.
New Zealand had initially stopped Australia that was chasing their 252/9 with the dismissal of Alyssa Healy in the sixth over. Lanning then partnered with Rachael Haynes for another big second-wicket partnership. The duo took their side past the finish line.
Reacting to their partnership, Lanning said they understood each other's games well, and they were also able to calm each other down.
While noting that the one-day game doesn't require too many risks, she said a cricketer with good intent can rotate the strike as much as she can.
She further stated that being lefthand-righthand combination, it throws bowling attacks out, and they were able to build a good connection.
New Zealand made headway in the 27th over, dismissing Haynes. They further send Sophie Molineux and Ashleigh Gardner packing courtesy of Amelia Kerr's double strike in an over.
This allowed 18-year-old Annabell Sutherland to impress, and she did. Lanning said the young cricketer took the pressure off her as she came in attacking.
Australia Women's winning streak in the 50-over format has now been extended to 20 games, starting from October 2017. They are now set to emulate a 21-game stretch recorded by the men's team in 2003.
Leave a comment