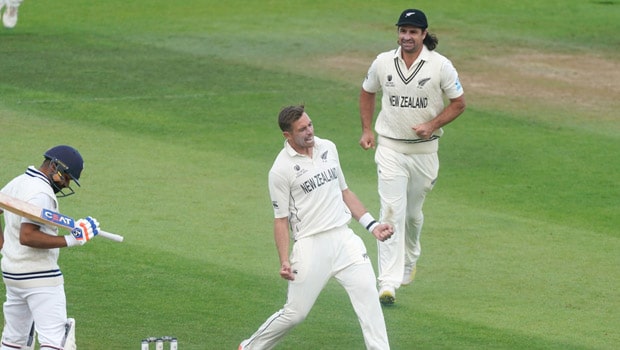 India closed the fifth day of the World Test Championship Final with a 32-run lead over New Zealand. This means that the final would shift into a sixth day, which is expected to be the last day. Whoever wins on day six is the winner of the 2021 WTC. Tuesday's game began one hour late, no thanks to bad weather, forcing the umpire to wrap things up quickly. India ended the day with 217 & 64-2 ahead of New Zealand's 249.
New Zealand started the day pretty good, and by the first innings, they were leading by 32 runs. Devon Conway got 50 while captain Kane Williamson played 49 from 177 balls. NZ had the lead from yesterday and hoped to use it to their advantage today but was denied the chance as India turned things around after. Rohit Sharma helped his side with 30 until he was dismissed by New Zealand's Tim Southee, who dropped 30.
The fifth day was a day like no other. The weather had its part to play, forcing things to happen very quickly, but it was far better than days one and four, which were completely wiped out by rain. Bad light affected days two and three. So, it has been a pretty rough final and it is affecting the outcome, as this is the first six-day Test since 2005 and also the first time it would happen in England, venue of the competition, since 1975.
In as much as India covered the ground on day 5, there is still a high chance that New Zealand could come back to win as all they need to do is to bowl out India, leaving them with enough time to go for more runs. This does not mean that India is totally lost, as all they need to do is to come aggressive.
Leave a comment