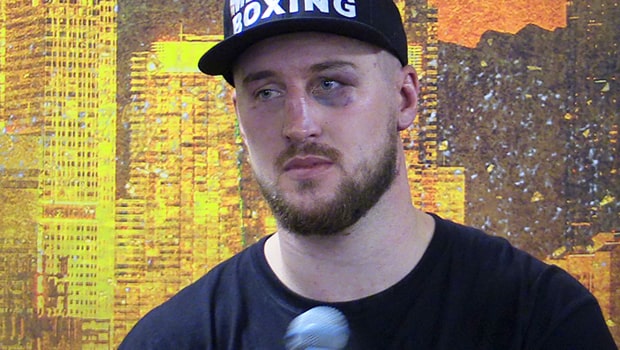 Ever since his disappointing loss to Tyson Fury, Swedish professional boxer Otto Wallin has been aiming for a return to the ring.
Wallin is considering his options as he aims to win back his bragging rights, after losing to his British counterpart earlier in the month.
In a bid to return to winning ways, Wallin has revealed he would like a rematch with Fury to avenge his loss or battle Anthony Joshua in a bumper-pay clash.
Supporters of the Swede would cut him some slack despite the defeat to Fury, considering that the boxer managed to open up a nasty-looking cut over the Brit's right eye. In what was considered by many as a stroll in the park for Tyson Fury, Wallin gave him a run for his money.
The 28-year-old is expected back in the ring early next year, with his reputation enhanced and morale boosted. Now, Salita believes a rematch against Fury is a priority for the Swede, thanks to his flattering display last time out.
Speaking with Sky Sports, Salita said, "Otto would be much better in the rematch. He is going to get busy and now he is comfortable with Fury's style. I strongly believe Otto wins the rematch!"
There have been suggestions among the media that Fury's horrific cut could have potentially resulted in a stoppage loss or even a draw. This is a popular opinion also shared by the likes of Matchroom Boxing boss Eddie Hearn and Dmitriy Salita.
Questioning the wide scoreboards, Salita said, "I think it could have easily been a draw, at most 7-5 Tyson".
"Fury is a great fighter who has tons of heart. He was very skilled and courageous in how he dealt with such diversity. But had it been anyone else, I feel the fight would have been stopped, " he said.
Salita also believes Wallin was in the running as an alternate opponent for Anthony Joshua in his last world title fight, though Andy Ruiz Jr got the nod.
Now, Wallin wants a blockbuster clash against AJ in case the former British Champ regains his title when he battles Andy Ruiz Jr in a rematch on December 7.
"Wallin is a true champion. He is from Sweden and fought Fury in Vegas, so the destination is no issue. We were discussing him stepping in to fight Joshua in June. We would be open to that possibility some time down the line in the UK", Salita concluded.
Leave a comment