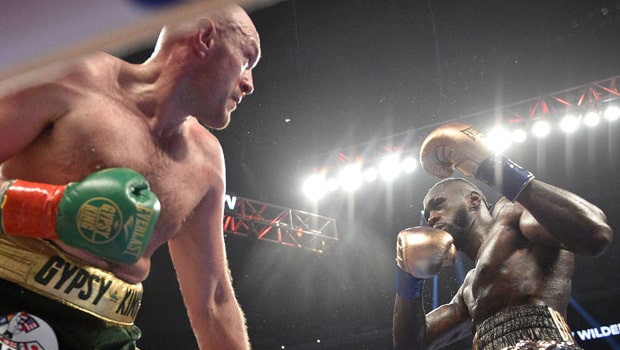 British professional boxer Tyson Fury has revealed he sank four pints of beer the night before the Deontay Wilder fight. In a matchup where Fury was widely expected to come out with a win, the Brit could only salvage a hard-fought draw against Wilder last December Los Angeles.
Fury could not handle his opponent in the ring, as he was dropped twice by the heavyweight world champion. There was to be redemption for Fury at the end of the clash, however, as the ringside judges decided to score the fight a draw.
Fans are gearing up for a potential rematch between these two heavyweight rivals, provided both boxers win their respective matches. Fury was pitted against Otto Wallin on Saturday while Wilder was drawn Luis Ortiz in November.
Avid boxing fans must be smacking their lips at the prospect of seeing these two long-term rivals lock horns once again. Fury will be looking to set the record straight if he gets a second chance to step in the ring with his American rival.
Tyson Fury, who became known for his drinking habits and drug-fueled depression during his three years away from the ring, has claimed to enjoy a tipple on fight week.
Speaking with Seconds Out, Tyson said, "I drink beer while I am at training camp. I had four pints of beer before the Wilder fight – the night before, and it didn't do me any harm".
The Brit spoke like he had just been provoked by someone, "I'm a 30 years old man, and I have been professional for 11 years. I am married with five children; if I want some f**king beers, I'll have some".
He revealed that his body usually craves for some shots before games and he doesn't see why he shouldn't go with his body. After all, it's his!
Ben Davison, Fury's trainer, confirmed the surety of the story, even claiming that he has been deceived by the former Fighter of the Year on several occasions.
"He's not lying, when I come down, I'm like 'what the f*ck is this,' and he was like 'they're non-alcoholic.' I found out two days later that they were, in fact, alcoholic", the trainer said.
Leave a comment