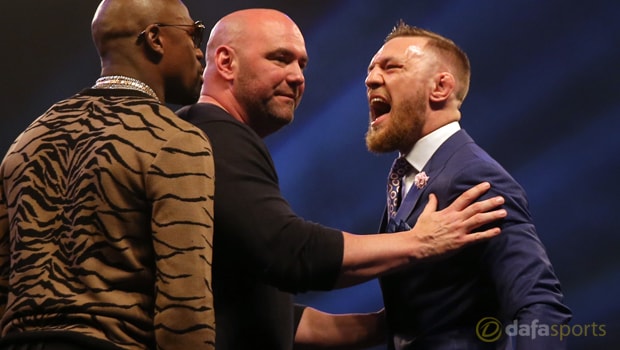 Former world champion Pauli Malignaggi is adamant that Conor McGregor can cause Floyd Mayweather plenty of problems when the pair meet in August.
The UFC star will enter a boxing ring for the first time in his career as he tries to end Mayweather's unbeaten record at the T-Mobile Arena in Las Vegas.
Mayweather is the heavy favourite to win and he will move to 50-0 if he overcomes the Irishman, but Malignaggi has recently been sparring with the UFC lightweight champion.
The duo have gone toe-to-toe this week and Malignaggi believes McGregor's game plan may work.
He told Sky Sports News: "I think you'd have to favour Mayweather but Conor has been working on tactics and certain things that should give him moments in the fight and certain moments can become bigger moments.
"It's all about capitalising on moments that present themselves on fight night and only Conor can control that.
Overall, looking at the big picture of course Mayweather is a big favourite – he's the guy that has been doing it for a lot longer.
"But he hasn't fought in two years which is a long lay-off.
I think Conor can exploit the fact that the energy levels of the guy in front of him may not match Conor's because he has got more youth on his side.
"It's hard to pick weaknesses in a guy like Floyd Mayweather because he is so good and he is such a complete fighter but Conor is bringing a different style to the table, a different toolbox so to speak.
Maybe those tools will work maybe they won't but we'll find out on fight night."
Leave a comment